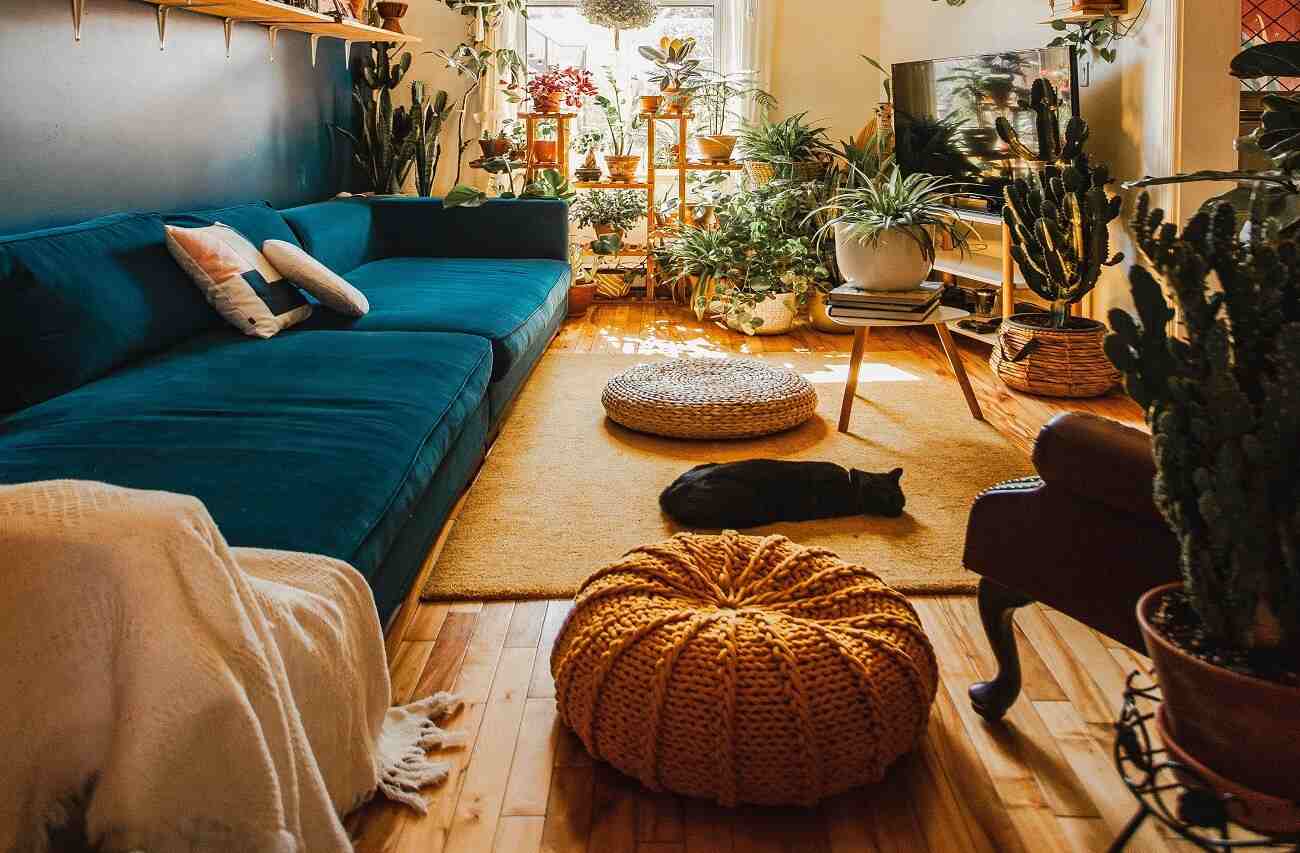 The trends bulletin: Beautiful bohemian
L
eft to conjure the physical embodiment of the word bohemian, what would you imagine? Bohemian is she who sashays in confidently donning her chintz print empire dress, layers of clinking bracelets & chains, a panama hat and vintage boots to a 'Black suit only' event. Bohemian is she who sways to the swing of jazz smack in the middle of the road while the horde of hurrying passers-by grunt exasperatedly at the sight. It is she who expresses her thoughts as she feels them, unfiltered, to a room full of drab faces driven to a muted existence by their own inhibitions.
Interior that channels a free-spirited energy, décor that flaunts an unbothered enthusiasm, designs that symbolize love, and pieces that wholly lend themselves to the language that is art. Such are the attributes of a bohemian lifestyle that is detached from the conventional norms set by the society. At the heart of the bohemian aesthetic is a relaxed and personal style that prioritizes one's own enjoyment more than anything else.
Qalara

shows you stills of the bohemian lifestyle that is preferred by so many nowadays. Read on to find out why the bohemian theme is trending in contemporary times and what are buyers essentially looking for.
Clearly enough, the bohemian wants to get as far away as possible from the clutches of restrain. The lively bohemian wants to fly, soar high, make mistakes if it means they get away from the conventional ways. The bohemian approach stems from an aesthetic origin. And so today, bohemian has come to mean anything and everything that carries an unhinged artsy vibe. Buyers committed to shopping 'bohemian' things are essentially rummaging for something that stands out as modern, folksy, earthy, romantic, or nomadic.
After the 70s which rode the bohemian wave in style, the theme is making a comeback contemporarily and is more youth-driven than ever. More than anything, this signifies the ever-changing temperaments of the youth. They want to assert ownership of their freedom, expression, beliefs, visions and their imperfect identities. The focus is on individualism and uniqueness. And what better ode to uniqueness than adopting the willful Bohemian ways?
1. In home décor & accessories
Relaxed. Free. No rules. These are the words buyers like to remember while characterizing their bohemian interior style. Colors ranging from neutrals to bold, tan & white to vibrant tones always make the cut. Metallics such as silver, gold & brass are popular. Colorful neons are common too.
We're talking crocheted wall hangings, contrast vases, tabletop top accessories made using rattan, wicker, or wood, incense holders, animal figurines, healing crystals & geodes. Tall mirrors with archaic frames, posh book ends, woven baskets, paintings, and and motif-rich wall art are some decorative accents that are must-haves in a bohemian pad. Dreamy lighting that sets a mellow ambience: floor lamps, hanging lights, pendant lighting, calming candles, wall scones, are all customer favorites. A racy red ceramic pot or a charming celadon planter add just the right pop of color. These home accents add to the soul of the space, empowering the bohemian spirit.
A bohemian home is synonymous with peak comfort. Buyers are precisely looking to make their houses imitate this feeling of pleasant warmth. Tasseled or fringed cushions, chintz print curtains, comfy quilts & woven patterned comforters, plenty of Moroccan style throws, handmade crochet blankets, bright colored pillows with ethnic prints laying around, and Persian motif handmade rugs gracing the floor are some styles symbolizing Bohemian furnishing.
3. In furniture & storage
Buyers looking to turn their spaces into a Boho paradise are essentially looking for furniture pieces that diffuse the 'make yourself at home' vibe. To emphasize the aura of homely comfort, they go for plush chairs and couches, upholstery in bright print, faux fur cushioned chairs, wooden dining armchairs, rattan chairs, rattan side tables, low seating furniture, teak wood tables, inlay designs, striped ottomans, woven natural fibre poufs, rustic wood beds, unique headboard shaped beds, and carved wooden nightstands to name a few.
The key to shopping boho furniture units is to avert gaze from anything that is perfectly streamlined.
A boho-chic kitchen setting touts open wood shelves, wooden countertops, earthy or pastel hued cabinets, lots of plants, patterned wallpaper or tiled walls flaunting playful colors. Personalized style and a tinge of idiosyncrasy become the main elements of a boho kitchen.
Rattan light fixtures, patterned rugs, macramé wall hanging, wooden elements, wicker baskets, whimsical print dinnerware, and handmade ceramic mugs lend any kitchen setting a boho sensibility. In accessories, thrifted copper articles, vintage motif cutlery, rattan baskets and trays, knit mittens & pot holders, ceramicware, and wooden articles steal the spotlight.
5. In fashion & accessories
Buyers of bohemian fashion are on the lookout for loose-fitting, threadbare and handmade clothing that lacks structure and displays carefree layers of colors, patterns, tones and textures overlapping each other in a peaceful union. Free and flowy fabrics, flared jeans, maxi & cami dresses, fringe-hem skirts, high low dresses, exaggerated ruffled collars, asymmetric pants, mix prints, bold hues, retro patterns, etc. secure a spot for themselves in the boho checklist. Eccentric apparels flaunting patchwork, embroidery, suede, and paisley prints are blowing up now more than ever.
In bags and fabric accessories, buyers popularly pick out anything made using linen, rattan, wood, rope, resin, beads, leather (or faux leather), tassels, macramé. There is a greater appreciation for handmade bags donning prints such as mandala, stripes, chevron, ethnic, warli art, and the evergreen florals! 
Whether it be statement accessories, chunky jewelry, handmade earrings, beady bracelets or precious stone necklaces, hoop earrings, funky pendants and quirky studs, all embrace a bohemian aesthetic. There's no such thing as too much silver. Anything handmade, crocheted, and tie-dyed, is also right on track with the contemporary trends that rely on newer styles!
Items or accessories portraying structured cuts, elegant built, minimalist tones or classic designs are a big departure from the bohemian theme. Basically, to conform with the bohemian checklist, shoppers like to avoid ultra-glossy, impeccably polished, futuristic, or geometric designs. Instead, maximalist, large in size, muted and matte metals accessories gilded with pearls, natural stones and genuine gems symbolize a true bohemian sensibility. Similarly, articles flaunting tassels, beads, layers, bone & wood accents, and tribal motifs are also famous picks!
In the mainstream culture, with the passage of time, there is a renewed understanding of what the bohemian lifestyle essentially means. It has adopted plenty of definitions, churned out sub-cultures, and seen various stages of fusion with other style types. That which remains constant and integral to the bohemian notion is emulating freedom, art, and an untethered spirit. It is a bold lifestyle choice for all the mavericks out there who want to readily foreground their unconventional and eclectic tendencies in a society so woefully limited by rules.
Discover the world of bohemian magic now and give your customers a chance to experience the truest joie de vivre!