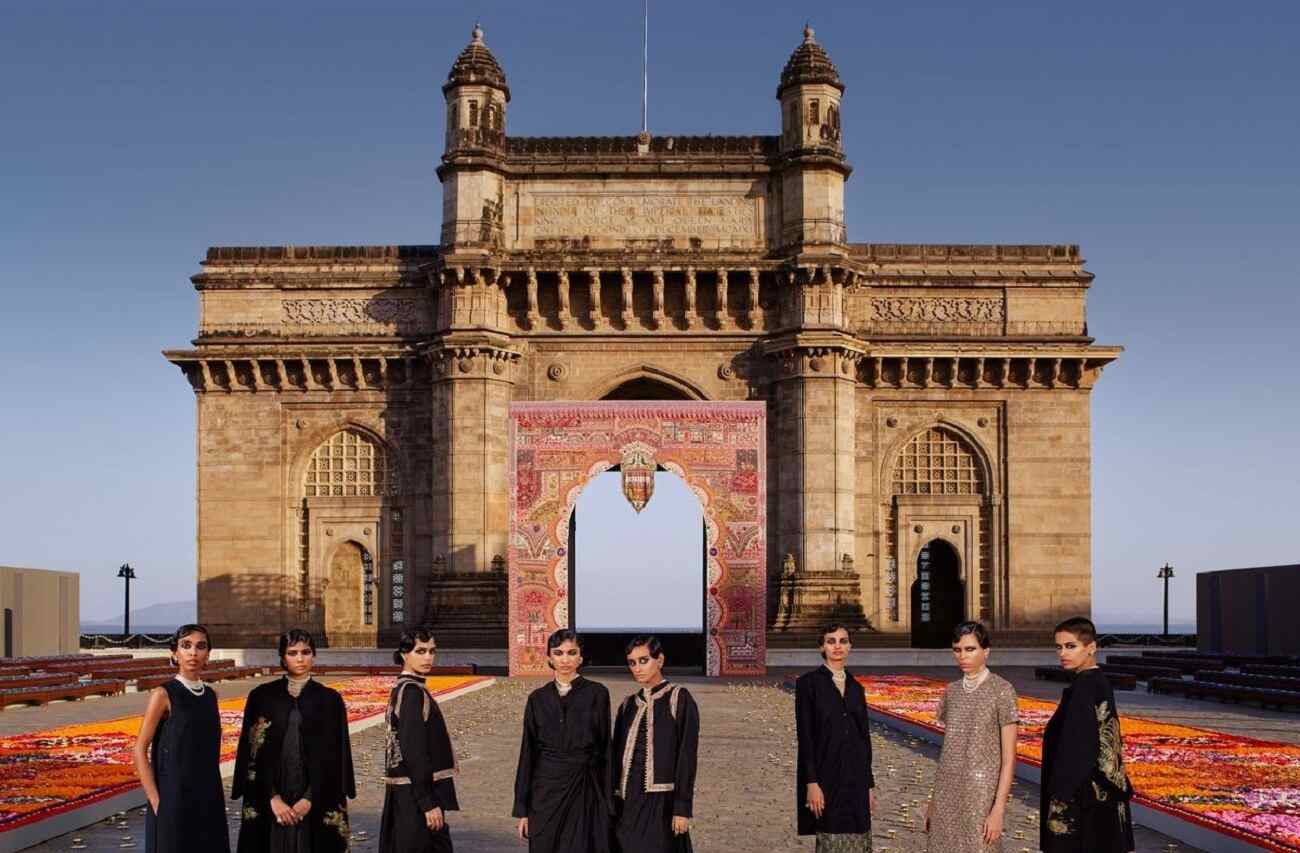 Shadows to spotlight: Dior's tribute to Indian artisans
F
or years, Indian crafts and craftsmanship have played a vital role in various significant design advancements, whether in silhouette or surface embellishment, throughout the luxury market worldwide.
Several Indian ateliers have always remained a cherished destination for global luxury brands. Yet, the exquisite Indian craftsmanship, so integral to these luxurious offerings, has often remained hidden beneath the brand names.
In a refreshing move, Maria Grazia Chiuri, the Creative Director of luxury behemoth Christian Dior, casts a spotlight on the special bond shared between Dior and the unparalleled artistry of Indian craftsmanship. She has made a bold attempt to acknowledge and celebrate the brand's partnership with Chanakya, a Mumbai, India-based atelier, in its most recent and much-talked-about Fall '23 collection.
Chanakya atelier, from Mumbai, led by Karishma Swali, has produced surface ornamentation for several luxury brands and fashion houses over the years.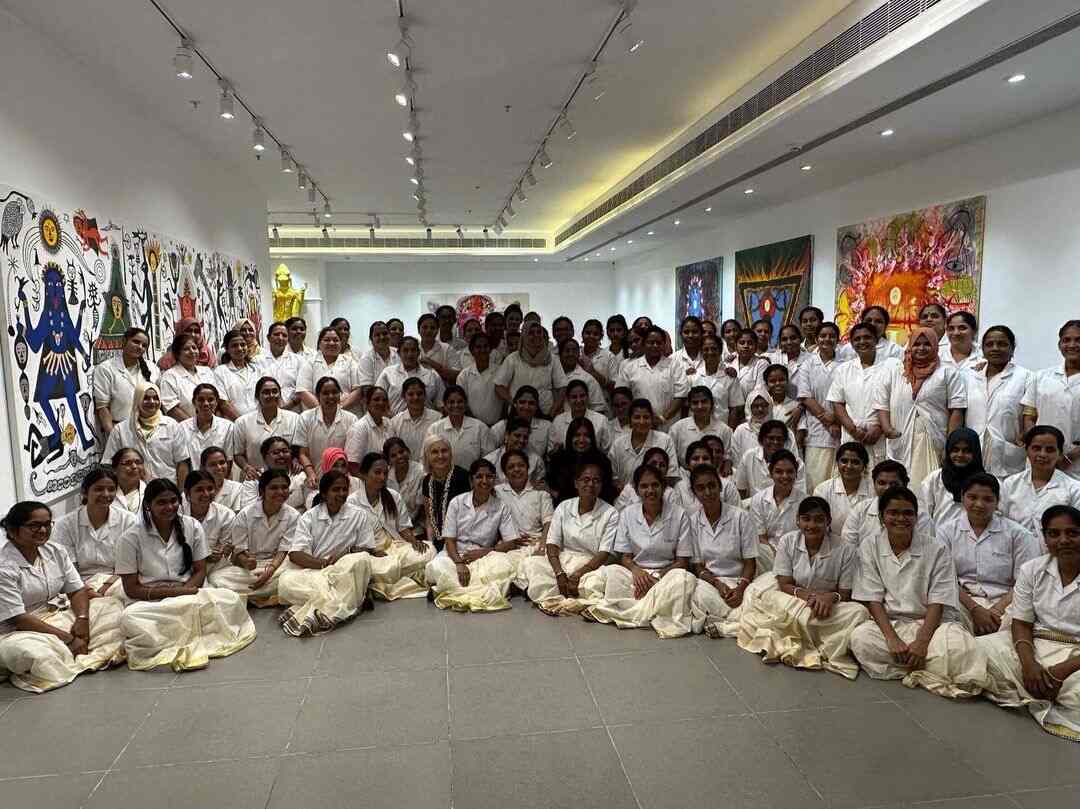 An incredible display of reverence to Christian Dior's admiration for the subcontinent, the evening of 30th March saw a celebration of the timeless craftsmanship of India, as Dior unveiled its pre-fall 2023 India-inspired collection at the iconic Gateway of India, Mumbai. From the resplendent all-over mirror embroidered dresses to the radiant zardozi embroidered tops, each piece was a testament to the rich cultural heritage of traditional handicrafts.
Qalara delves into the intricacies of each of these enchanting craft forms that enamored all who bore witness to Dior's latest collection.
A tradition born in the Mughal era, Aari embroidery is a craft that involves using a hooked needle, locally known as 'aari,' to create intricate designs on fabric using metallic threads, beads, and sequins. Originally reserved for the clothing of royalty and the affluent, this luxurious technique is now a popular choice for high-end fashion and accessories. The metallic threads, beads, and sequins used in this craft form create shimmering embellishments that serve as a testament to the skill and creativity of Indian artisans.
Over the past few years, globally-renowned luxury brands such as Christian Dior, Gucci, Alexander McQueen, Balmain, and Alberta Ferretti have recognized the divine beauty of Aari embroidery, and have incorporated it into their collections. These high-end fashion houses often work in collaboration with Indian artisans to ensure that their creations remain authentic and true to the original technique.
Beautifully unveiled against the backdrop of the historic Gateway of India, the Fall 2023 collection by Dior left fashion enthusiasts in awe with its regal and shimmering dresses adorned with Aari embroidery.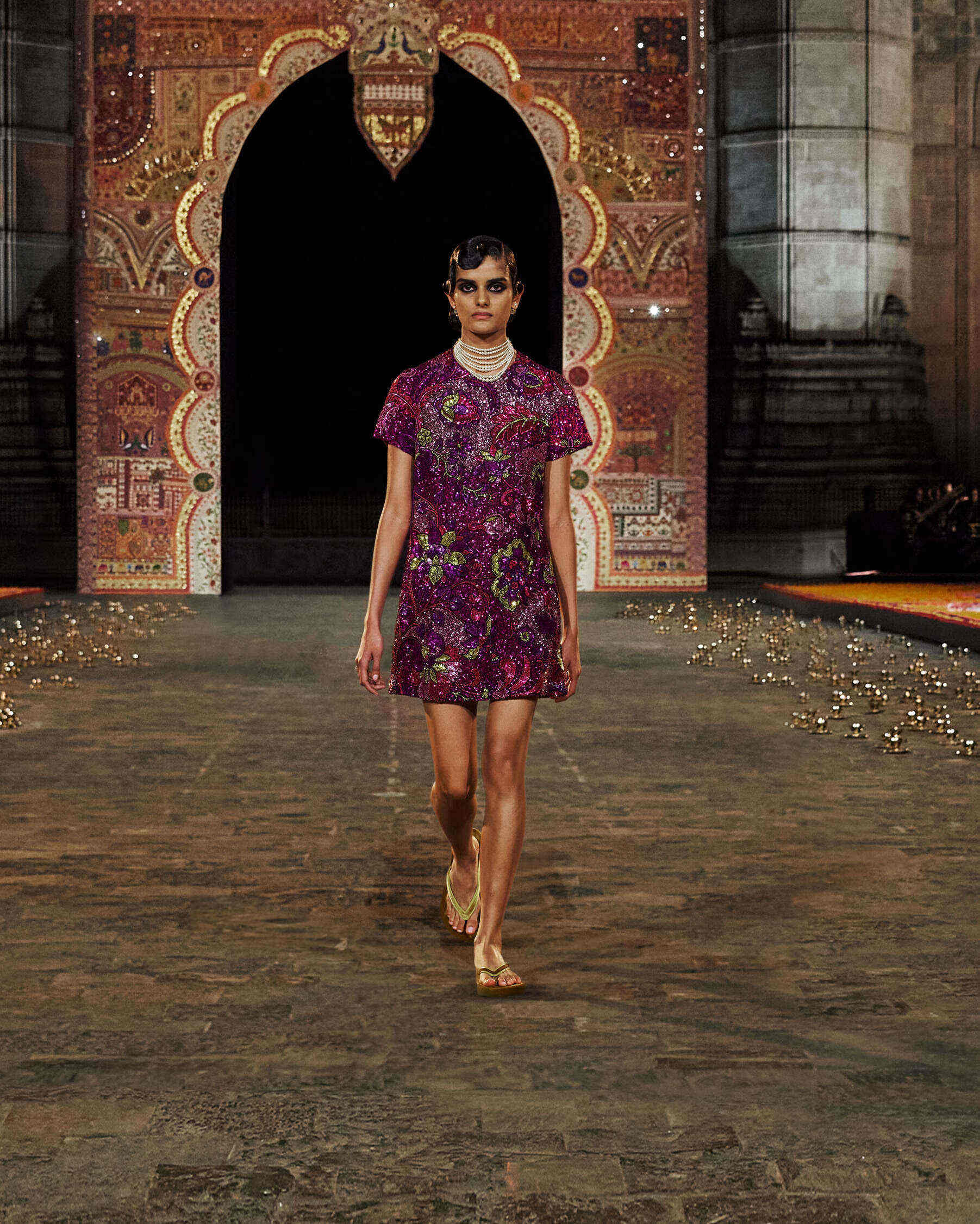 Crafted by skilled Indian artisans, the intricate embroidery captured the essence of opulence and sophistication. With this collection, Dior has once again demonstrated its commitment to incorporating exquisite craftsmanship from around the world into its designs.
The use of Aari embroidery is a testament to its enduring beauty and appeal in high-end fashion. The detailed designs and gleaming embellishments created through Aari embroidery continue to capture the hearts of designers and fashion enthusiasts alike, making it a true gem in the world of high-end fashion.
Appliqué is an interesting and decorative craft that involves sewing fabric pieces onto a larger base fabric to create a design. Used for centuries to embellish textile and garment surfaces, this technique has a long history in India.
The vibrant art of appliqué in India is believed to have originated in the state of Gujarat. Appliqué is locally known as 'Katab.' It involves cutting complex designs, of desired shapes, out of fabric and then hand-stitching them onto a base fabric to create a vibrant and textured effect. Appliqué or Katab was traditionally used to adorn wedding trousseaus and other ceremonial garments!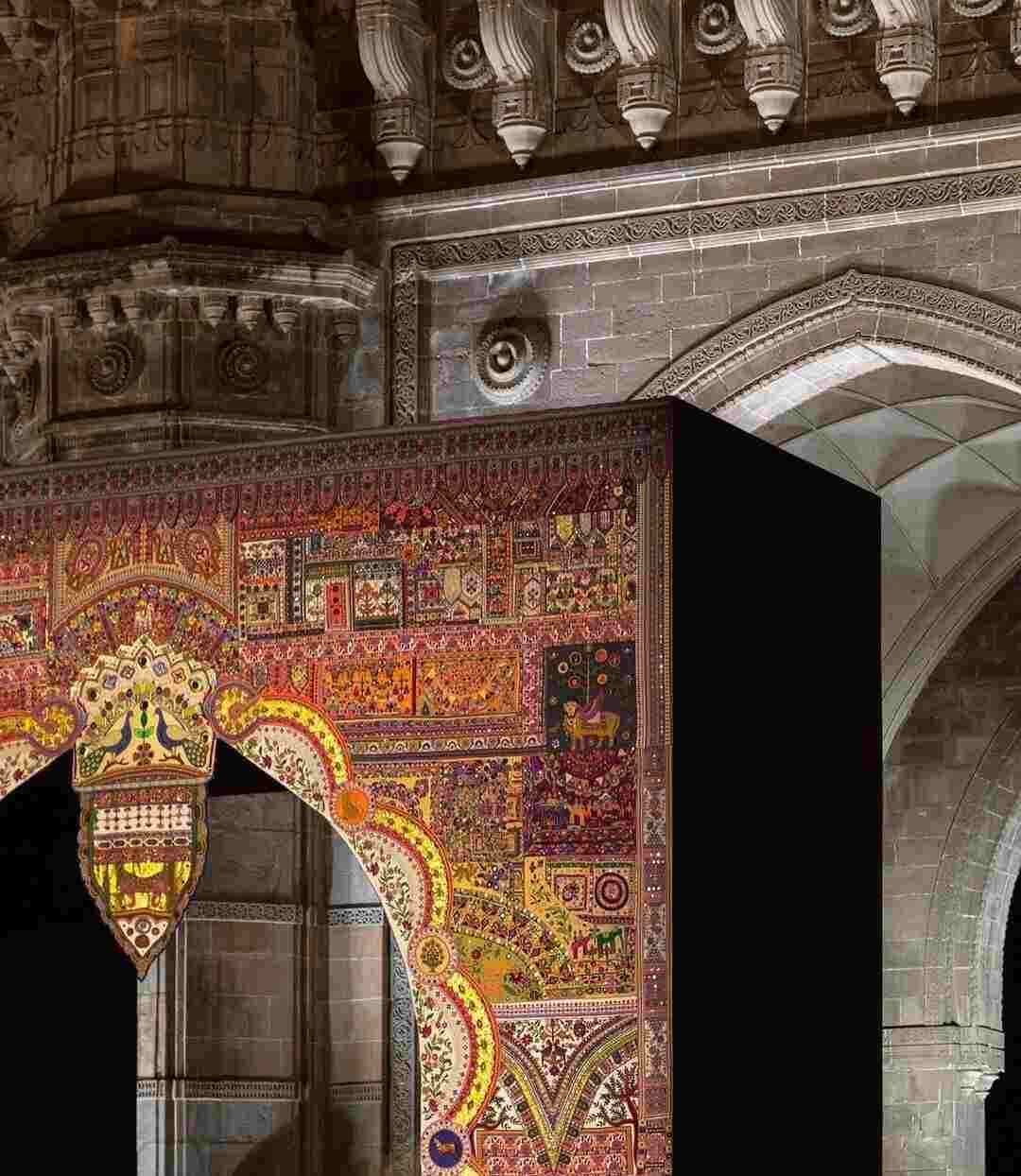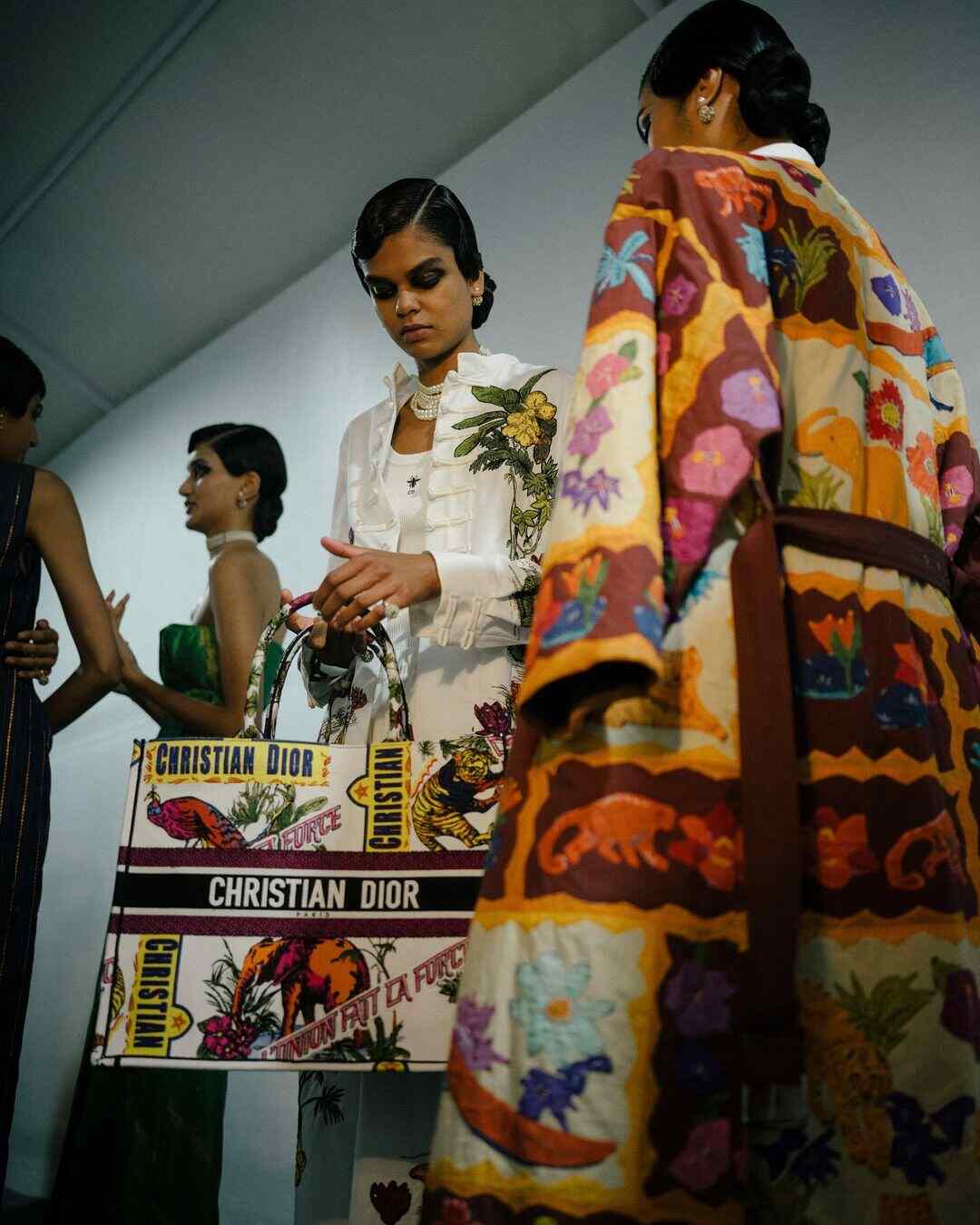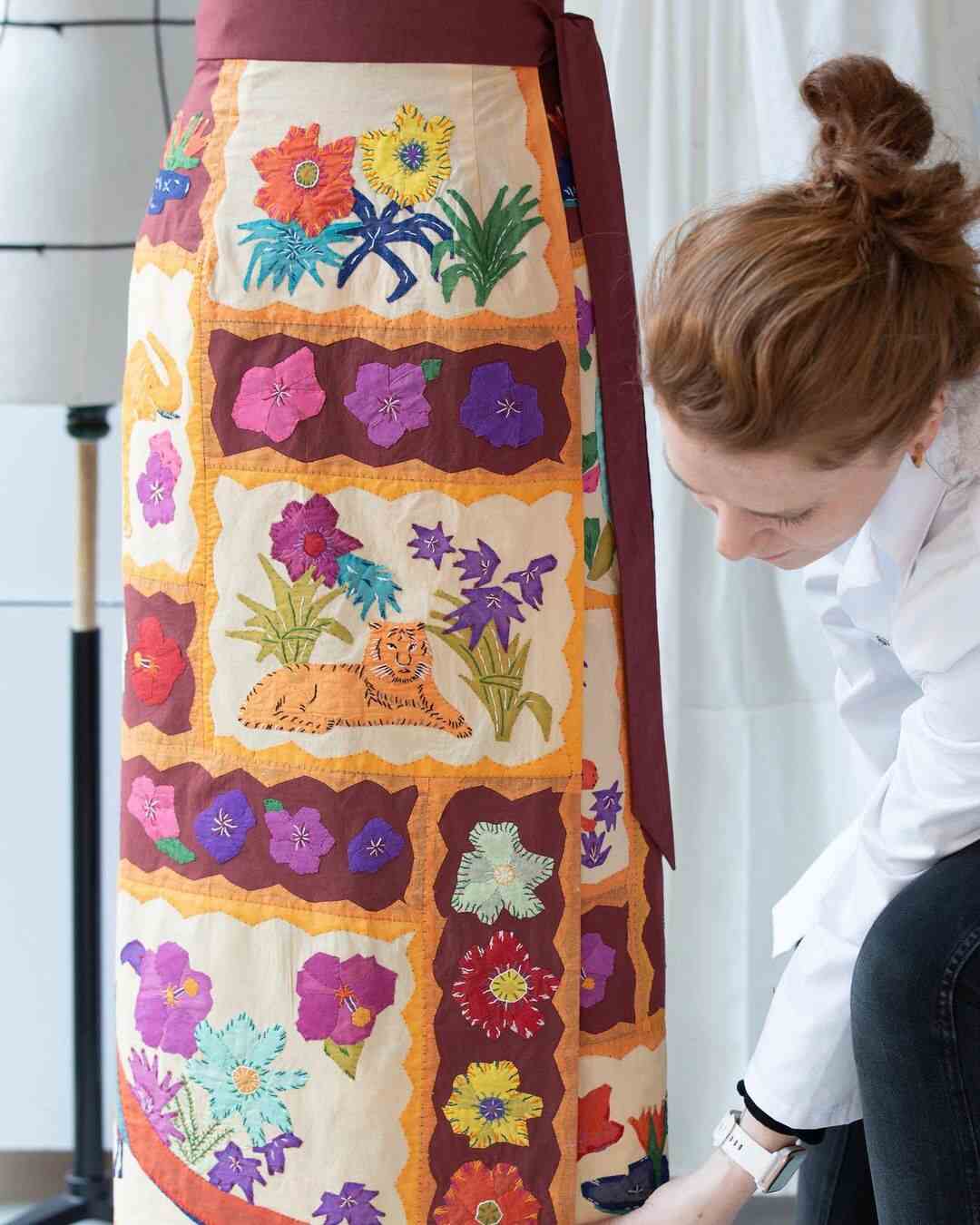 With time, the technique of appliqué has spread to other parts of India. Since then, each region has developed its own unique style. For instance, the state of Odisha is known for its 'Pipli' appliqué, named after the village Pipli, which features brightly-hued motifs and designs that are inspired by nature and Indian mythology.
Indian appliqué art's captivating and colorful designs have captured the attention of luxury fashion brands around the world. Over the last few years, global high-end luxury brands like Oscar de la Renta, Gucci, and Christian Dior have started incorporating appliqué art into their designs. Designer Manish Arora, known globally for his bright-colored, eye-catching pieces, has used intricate appliqué work in his collections, featuring traditional Indian motifs. Sabyasachi Couture has incorporated appliqué into its bridal wear collections to add texture and dimension to its ornate and royal designs. These renowned fashion houses have used the art of appliqué to add a unique touch to their designs, showcasing the beauty and craftsmanship of rich Indian textiles.
A feast for the eyes, several pieces from Dior Fall 2023 collection, and even the 46-feet-tall backdrop installation, created by 300 master artisans and students from the Chanakya atelier and school, featured the exquisite handcrafted appliqué art. The combination of devout applique work and expert craftsmanship made these pieces true showstoppers on the runway!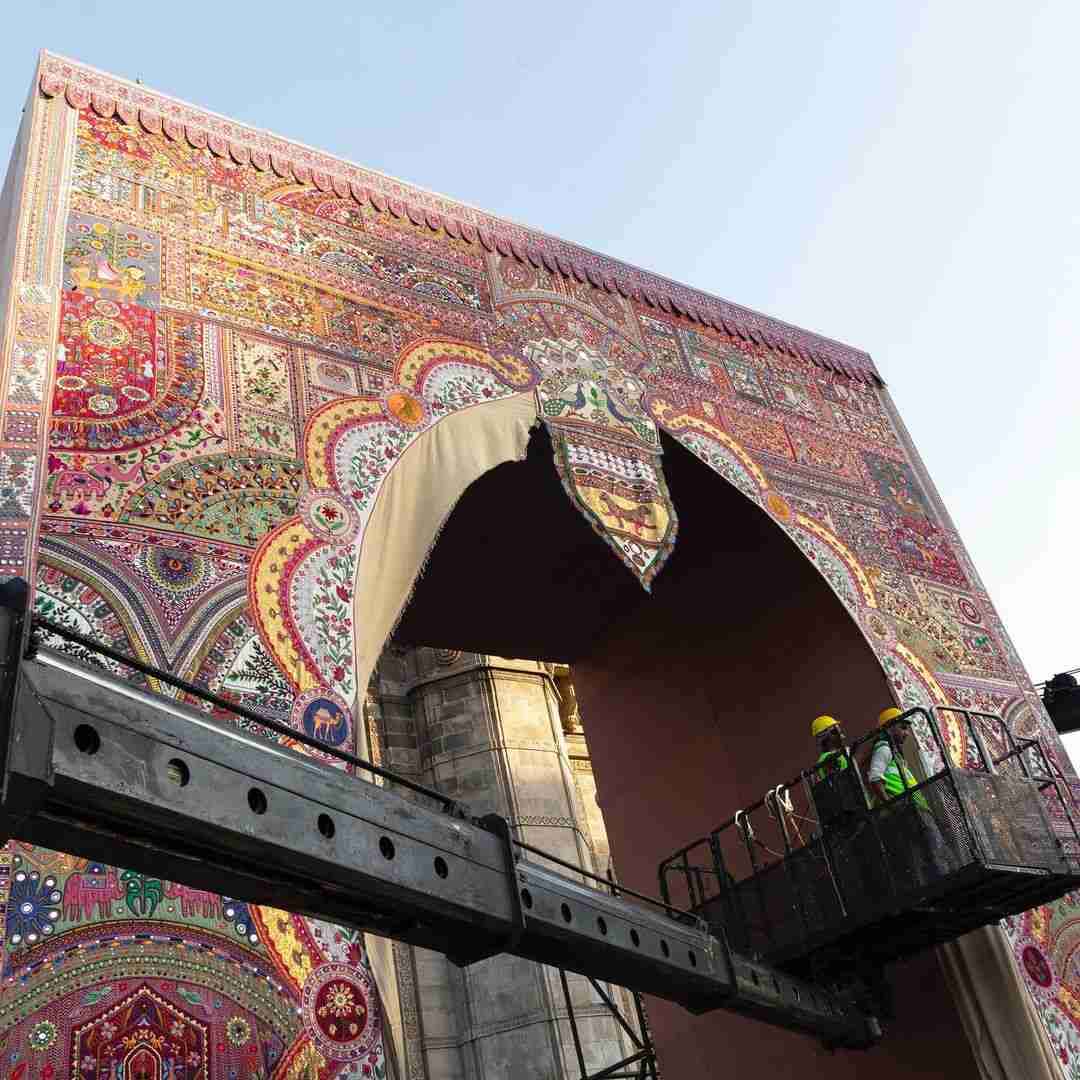 One of the oldest forms of printing, the craft of hand block printing has been practiced in India for centuries. A wooden block is intricately hand-carved with a design and then this carved block is used to transfer ink onto fabric resulting in a unique handcrafted pattern that is rich in texture and depth.
The craft of block printing has played an important role in the Indian textile industry for generations, and it is now gaining recognition in global luxury fashion. Many luxury brands have embraced block printing into their designs, and Dior's pre-fall 2023 show at the Gateway of India, Mumbai, is a prime example of this.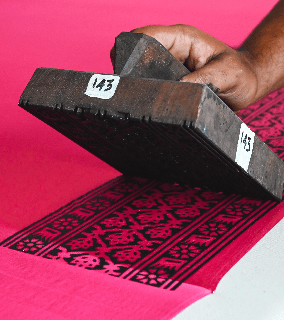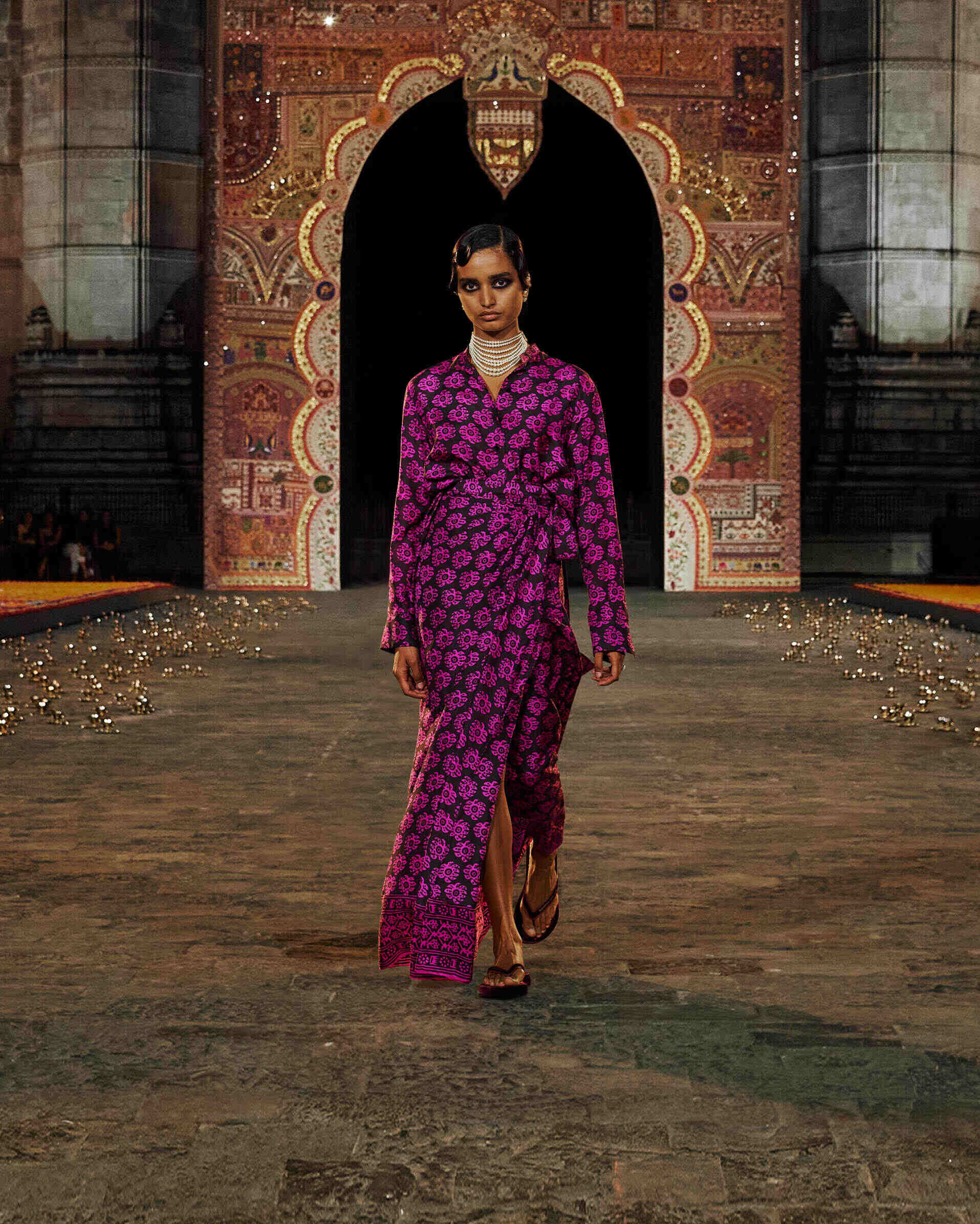 Dior's collection featured block-printed silk ensembles that were adorned with stellar designs and patterns. Maria Grazia Chiuri, the creative director of Dior, celebrated India's rich textile heritage and paid homage to the country's skilled artisans.
Other big names in the luxury industry that have featured block printing in their collections include Valentino, Gucci, and Hermes. This valuable art form's use in the global luxury market is a testament to its enduring popularity and unique beauty!
Mirror work embroidery, a form of decorative art that involves the use of reflective elements, has been an integral part of India's cultural heritage for centuries. The history of the craft dates back to the 17th century and is deeply intertwined with the cultural traditions and customs of the country, specifically in the state of Gujarat, where it is referred to as 'shisha' embroidery. With a rich assortment of geometric patterns and bold hues, this art form has become a staple in various regions across India as well as neighboring countries including Pakistan and Afghanistan.
Mirror embroidery has not only conserved India's rich cultural heritage but also provided livelihoods to many artisans in the country. Through their meticulously designed and breathtaking creations, these artisans have drawn attention to the art form, inspired new generations of artists, and gained international recognition for their skilled craftsmanship. Gucci (in their Cruise 2022 collection), Etro (in their Spring/Summer 2021 collection), Manish Malhotra, and many more have kept this craft alive and ever-beautiful. Dior, in its Mumbai show, set another example by creating an immortal memory of the same.
Couching-technique embroidery is an ornamental needlework craftwork that involves attaching decorative threads, yarns, or ribbons onto a fabric surface. The term 'couching' refers to the process of laying the decorative element onto the fabric surface and then securing it in place with a secondary thread or thread-like material.
The roots of couching-technique embroidery can be traced back to the Middle Ages when it was used as a form of embellishment for liturgical apparel and other religious textiles. Throughout the Renaissance and Baroque periods, this technique was utilized extensively in high fashion and royal garments, and elaborate gold & silver threads were often employed to create ornate designs. The technique is often used in combination with other embroidery styles, such as crewelwork, stumpwork, and goldwork, to create detailed and multidimensional designs.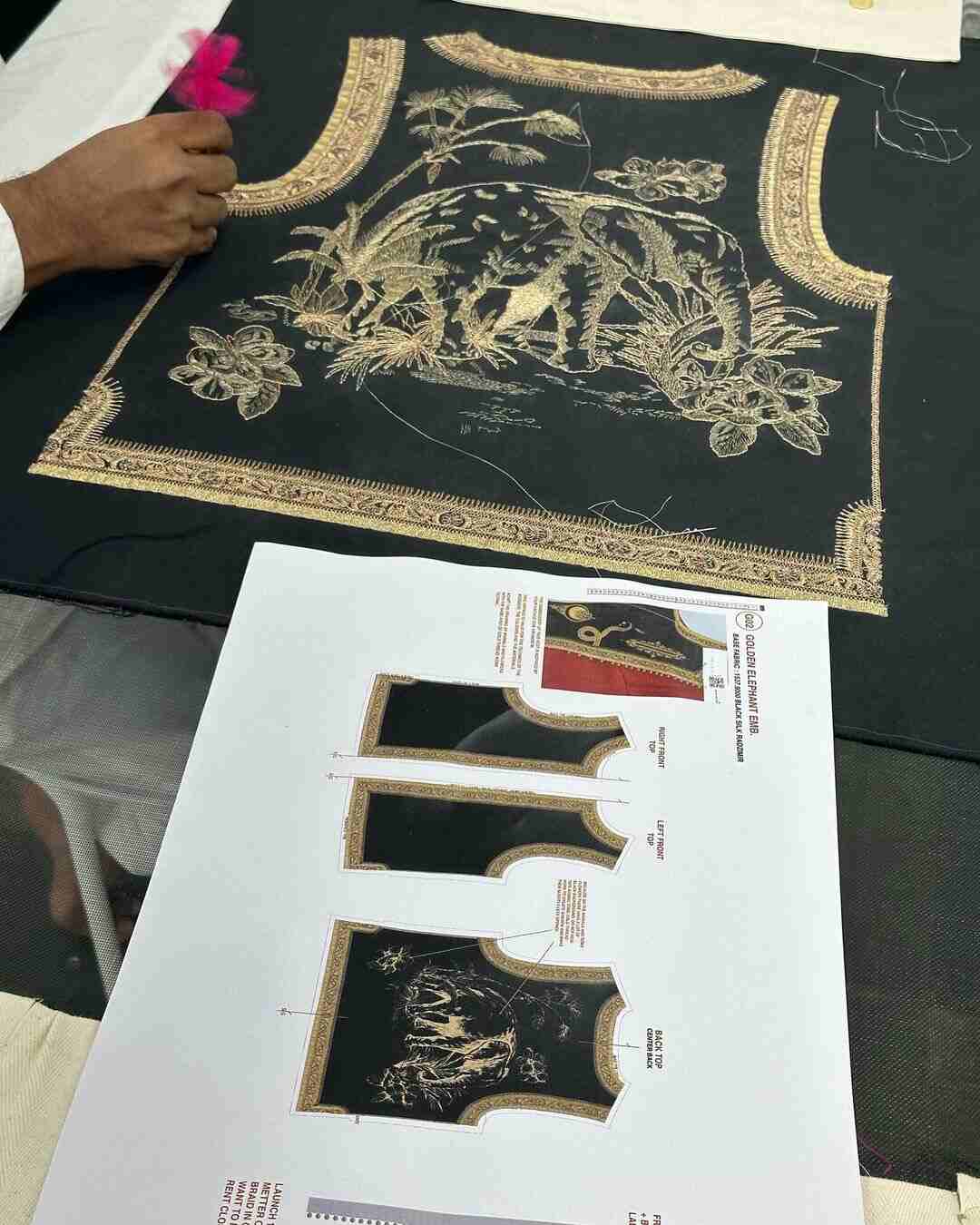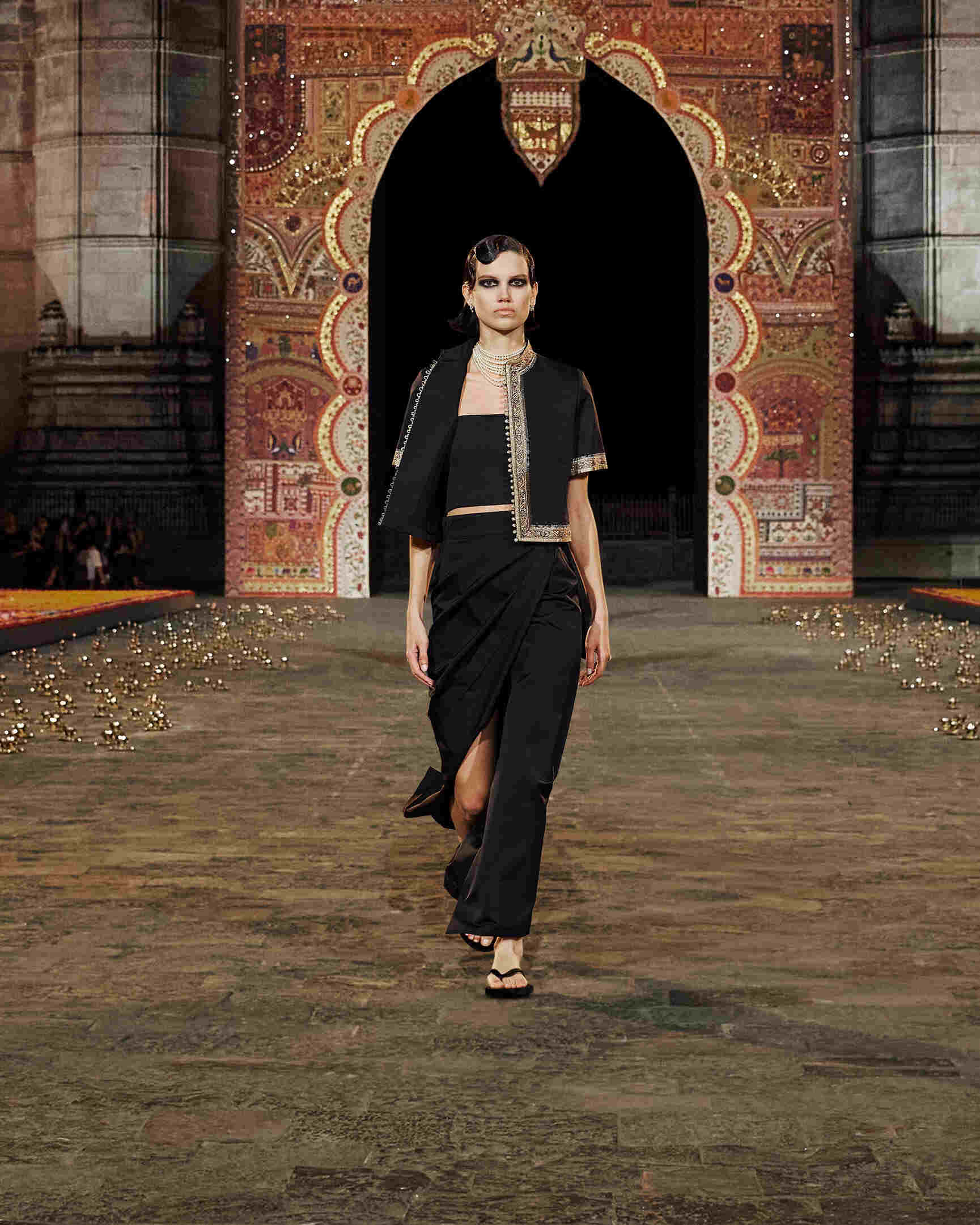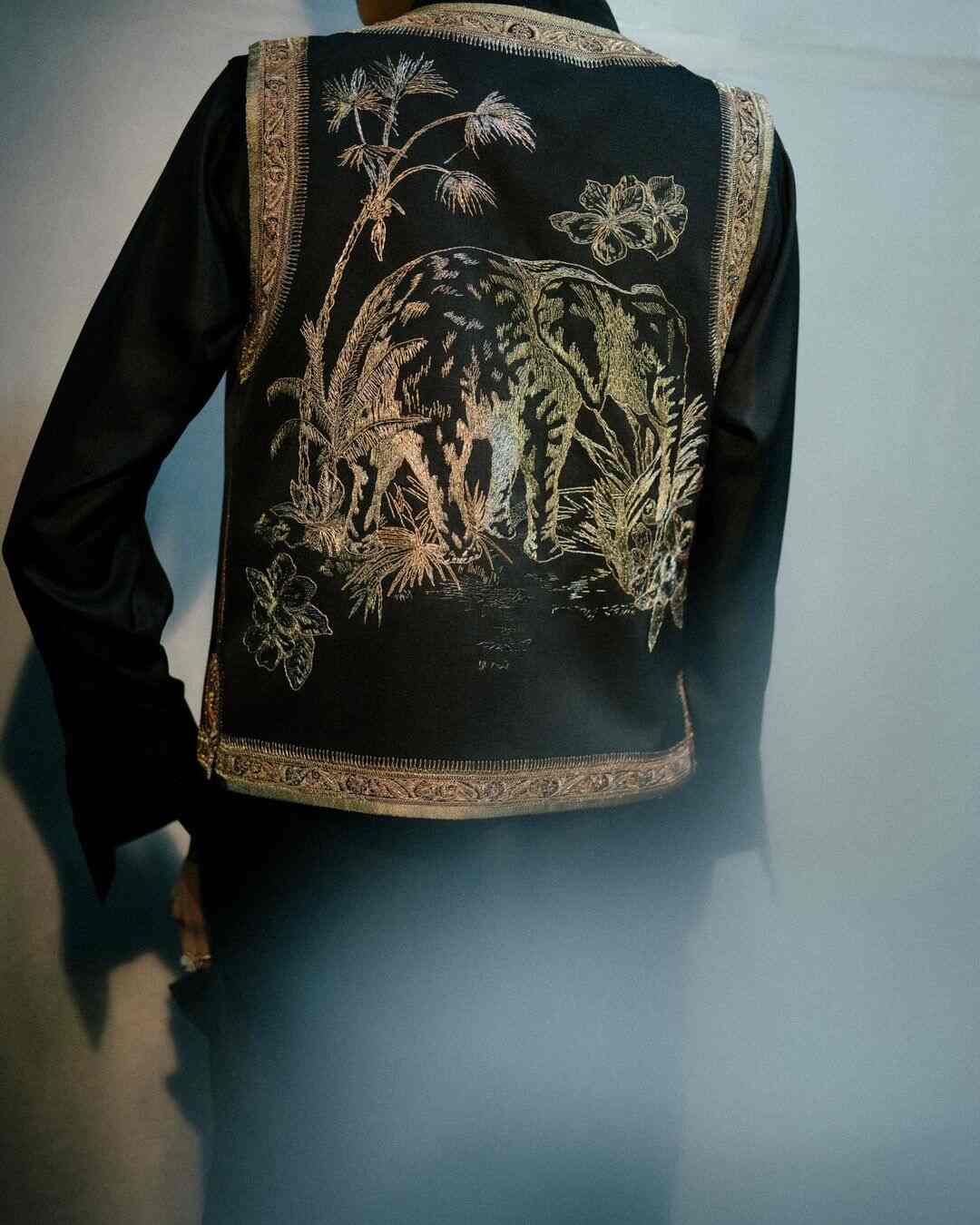 Couching has also been employed to highlight social issues and political activism, with contemporary artists using the craft to create thought-provoking pieces that address important societal themes. Additionally, it has become a popular pastime for hobbyists, offering a relaxing and creative outlet for individuals seeking to create beautiful and distinctive works of art. Internationally, Chanel (in their Fall/Winter 2021-2022 collection), Valentino (in their Spring/Summer 2021 collection), Dolce & Gabbana (Fall/Winter 2018-2019 collection), and now Dior have created benchmark collections that have personified this craft to bring it to life.
Zardozi is a luxurious form of embroidery that is stemmed in ancient Persia and has been prized throughout the world for centuries. The craft involves the use of metallic threads and embellishments, such as sequins, beads, and pearls, to create dazzling designs on fabrics such as silk, velvet, and satin. The history of zardozi can be traced back to the Mughal era in India, where it was a favored art form among royalty and the moneyed elite.
Over time, zardozi embroidery has evolved, with new techniques and materials being incorporated into the craft. Today, zardozi is widely practiced in India, Pakistan, and Afghanistan, with artisans producing both, traditional and contemporary designs that showcase the magnificence and versatility of the craft. It has not only served as a symbol of wealth and opulence but has also played a crucial role in preserving cultural traditions and heritage. It has provided employment opportunities for many artisans, who have handed down their skills to the next generation, ensuring the continuity of this beautiful art form.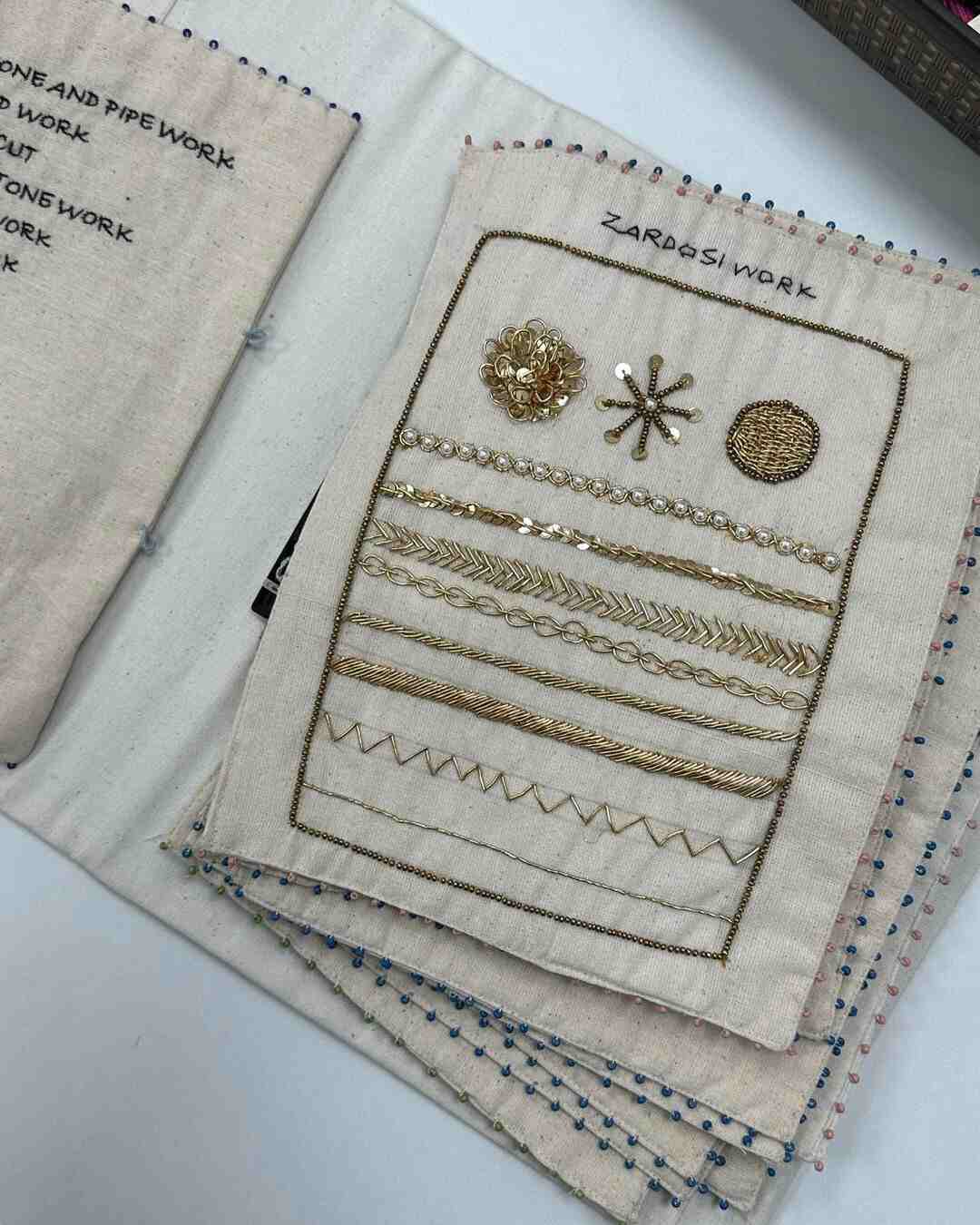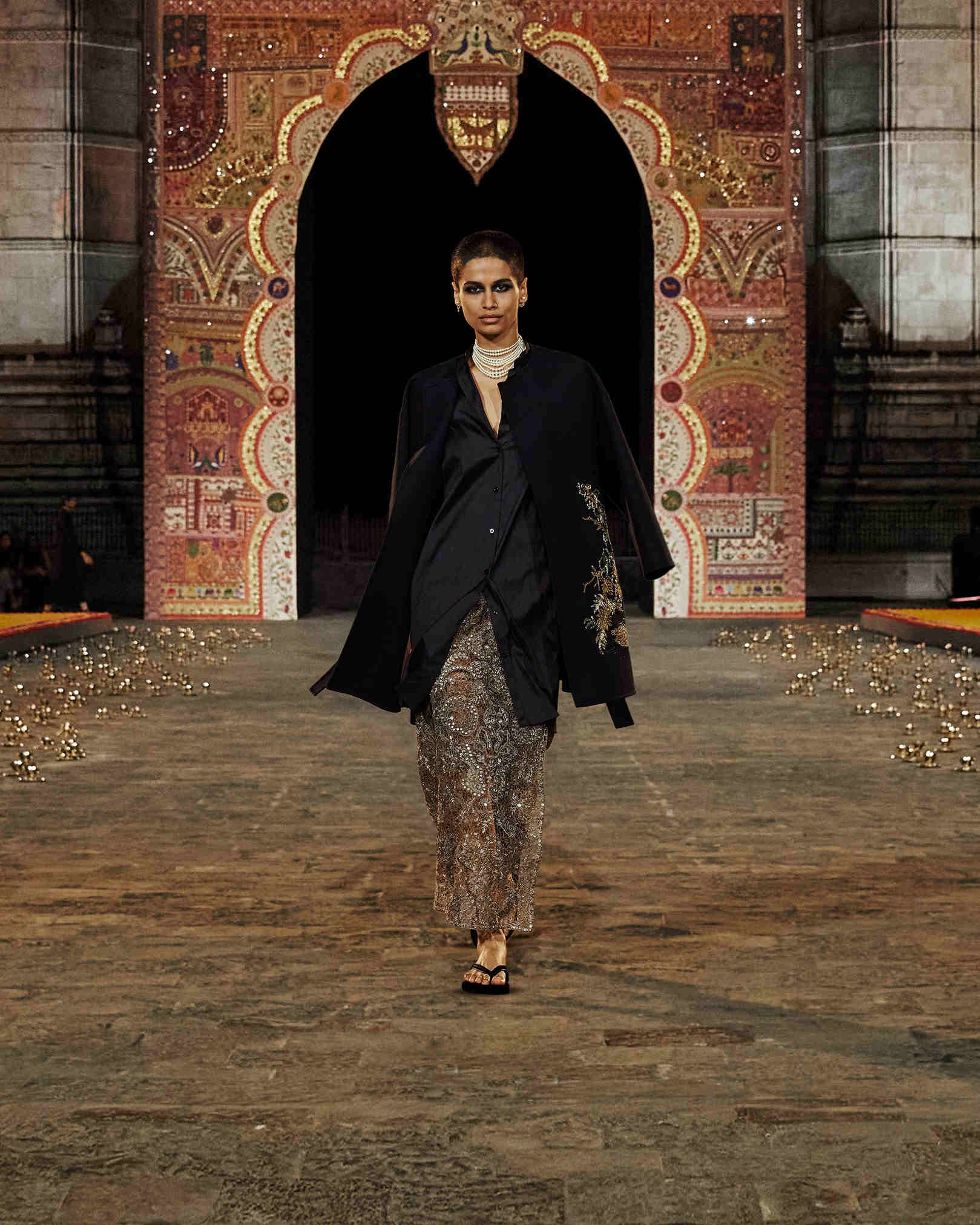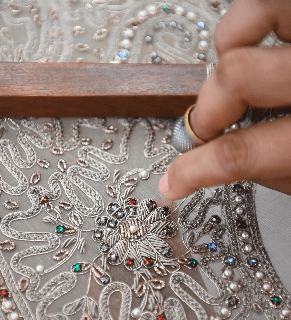 In recent years, zardozi has also been utilized in contemporary fashion and design, with designers around the world integrating the technique into their collections. Marchesa (in their Spring 2021 collection), Elie Saab (Fall/Winter 2021 collection), and Sabyasachi Mukherjee have made extensive use of zardozi in their collections amongst others. Dior joined the list this year with their zardozi ensembles leaving the audiences awestruck at the Mumbai show.
With its rich history, exquisite designs, and enduring popularity, zardozi embroidery remains a treasured art form that continues to allure art appreciators to date.
This craft is believed to have originated in India and has been practiced for thousands of years, with examples of tie and dye textiles dating back to the Indus Valley Civilization. The technique involves tying or folding sections of fabric before dipping them into a dye bath. The fastened or folded sections resist the dye, creating distinctive patterns. The process can be repeated with different colors to create more elaborate and layered designs.
In recent years, tie and dye has become particularly popular among sustainable and eco-friendly fashion brands, as the technique allows for the creation of unique and beautiful designs using natural dyes and fabrics. It has also become a favored artistic pursuit, allowing individuals to express their creativity and fashion unique clothing and home decor items that showcase their individuality and style.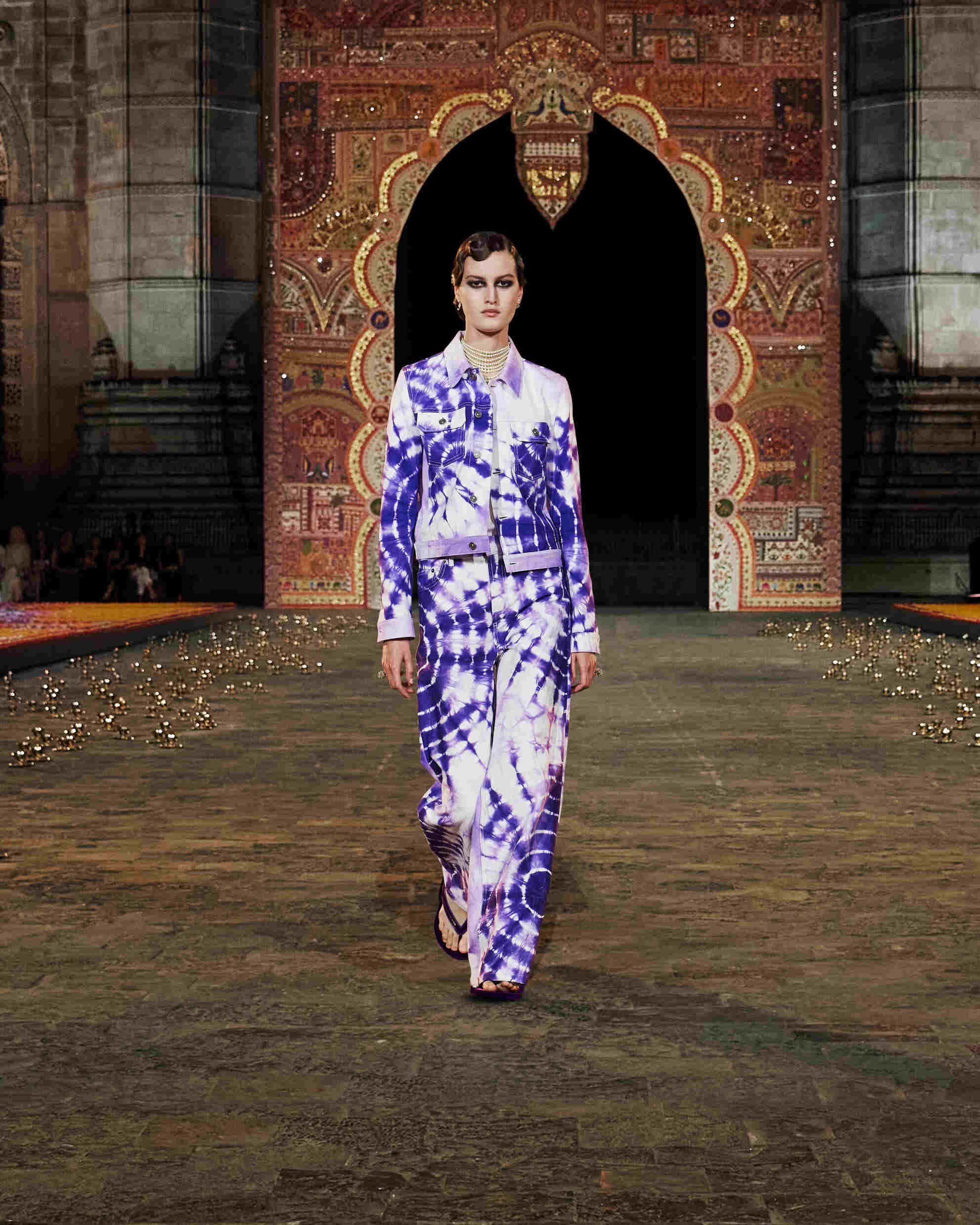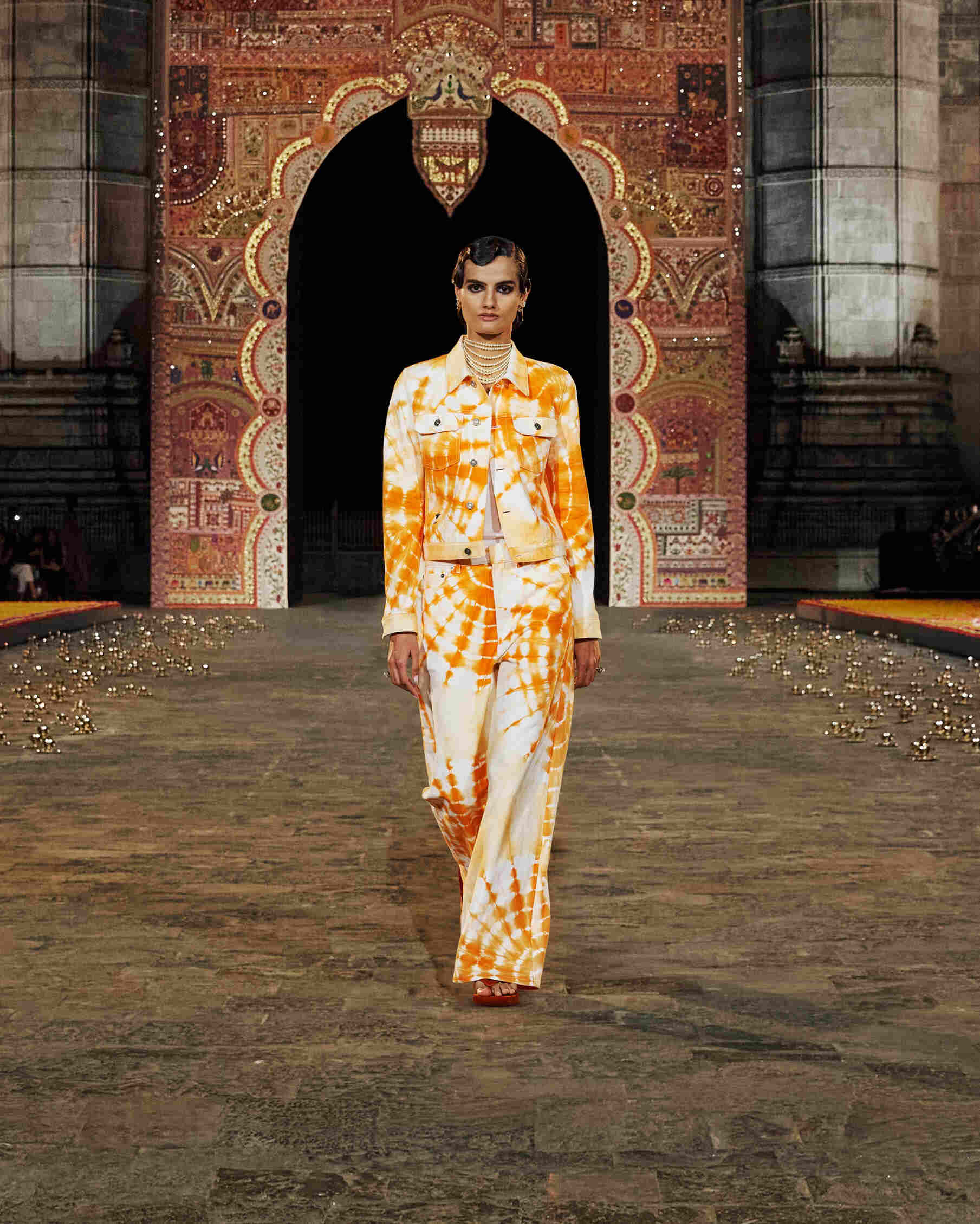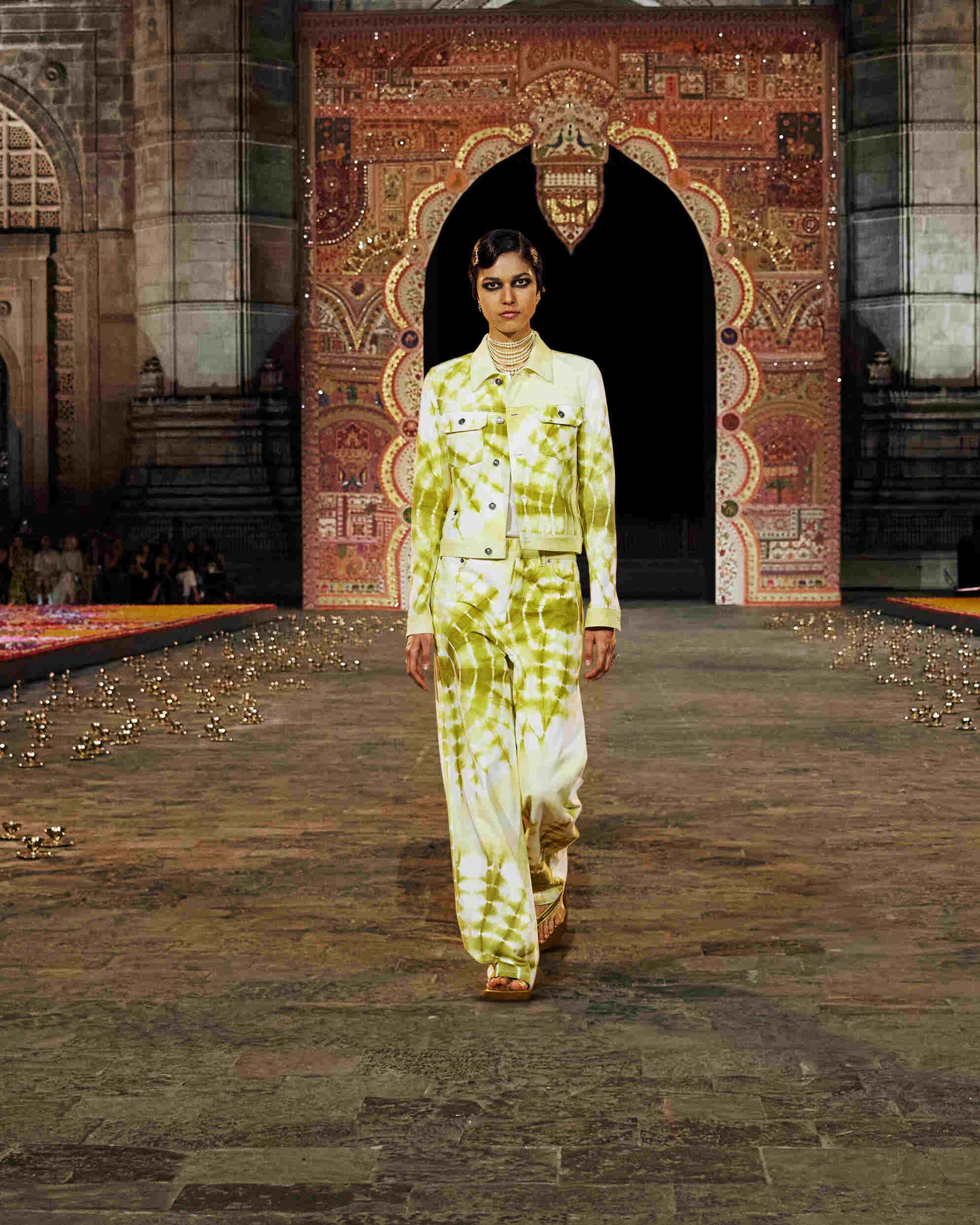 Along with these trends, tie and dye has gained popularity in the luxury fashion industry as well. Brands like Proenza Schouler (Spring Collection 2021), Alexander McQueen (Spring Collection 2010), and Dior (Resort 2021 collection) have played around and explored the escapades of the craft to great lengths.
In a recent event, Dior yet again presented a stunning application of this ancient technique in its Fall 2023 Mumbai show. The garments give the entire collection of around 100 pieces a much-required dash of freshness and playfulness. With the sleek and sober design language, tie and dye gives the pleasure of a chic appeal to the ramp!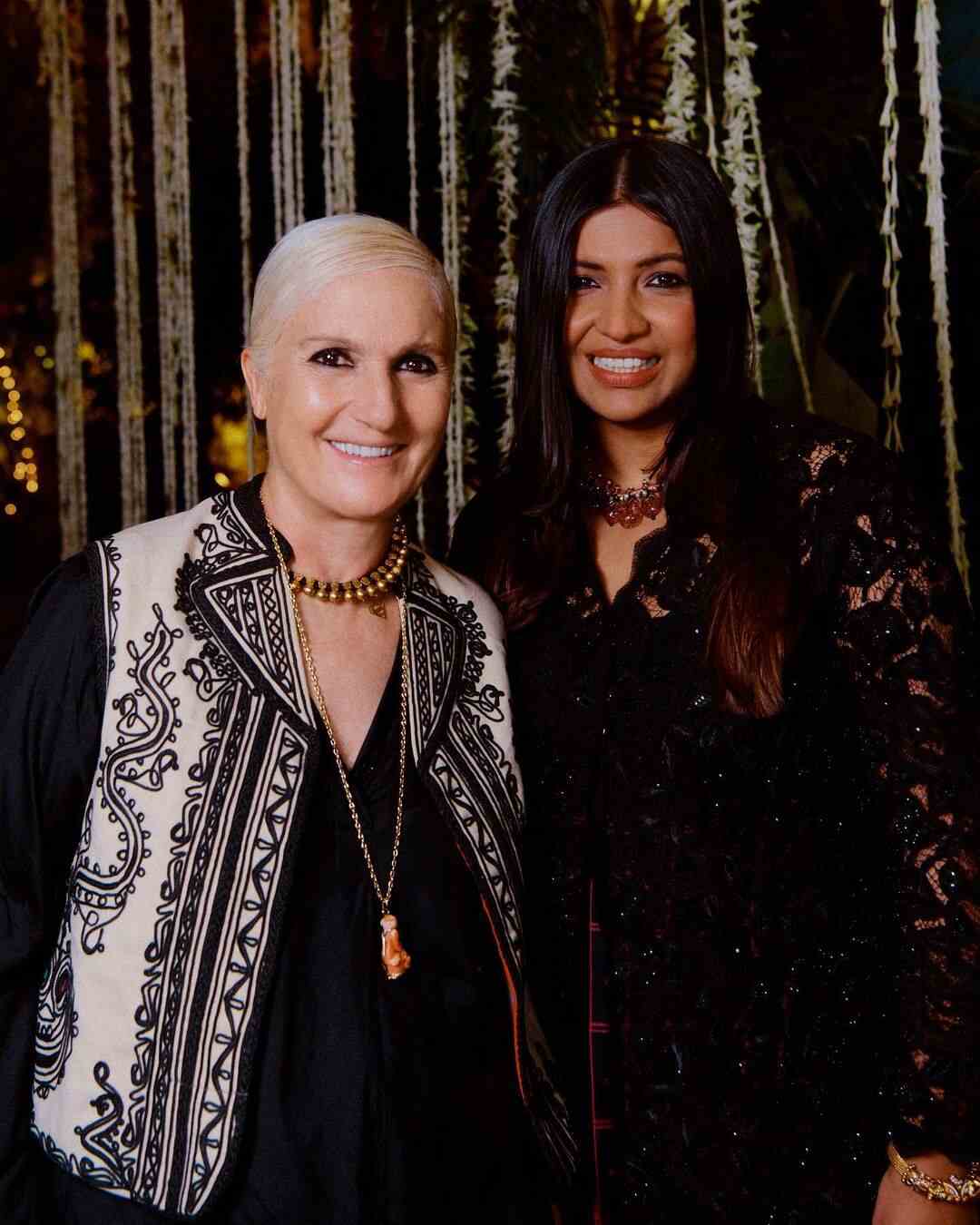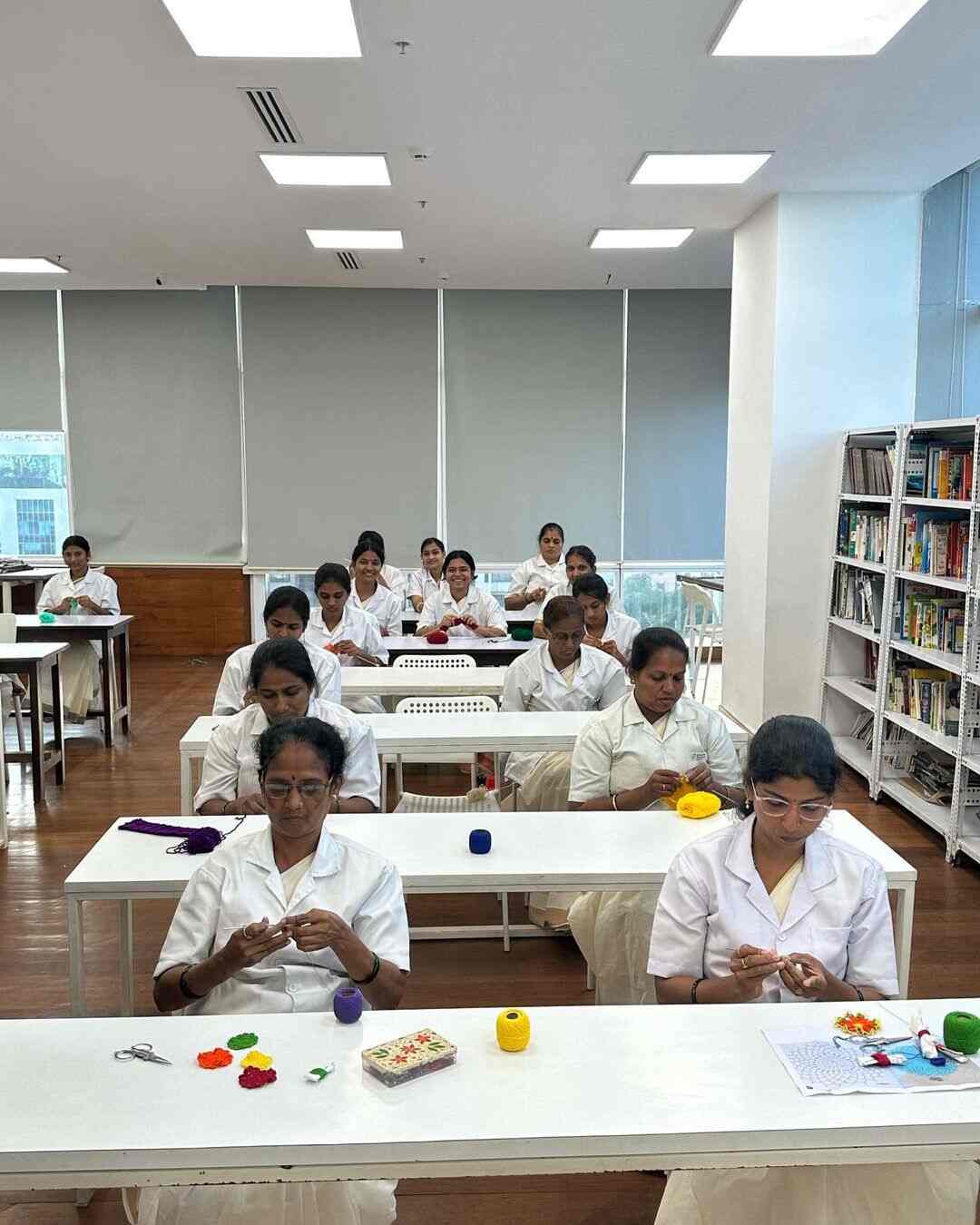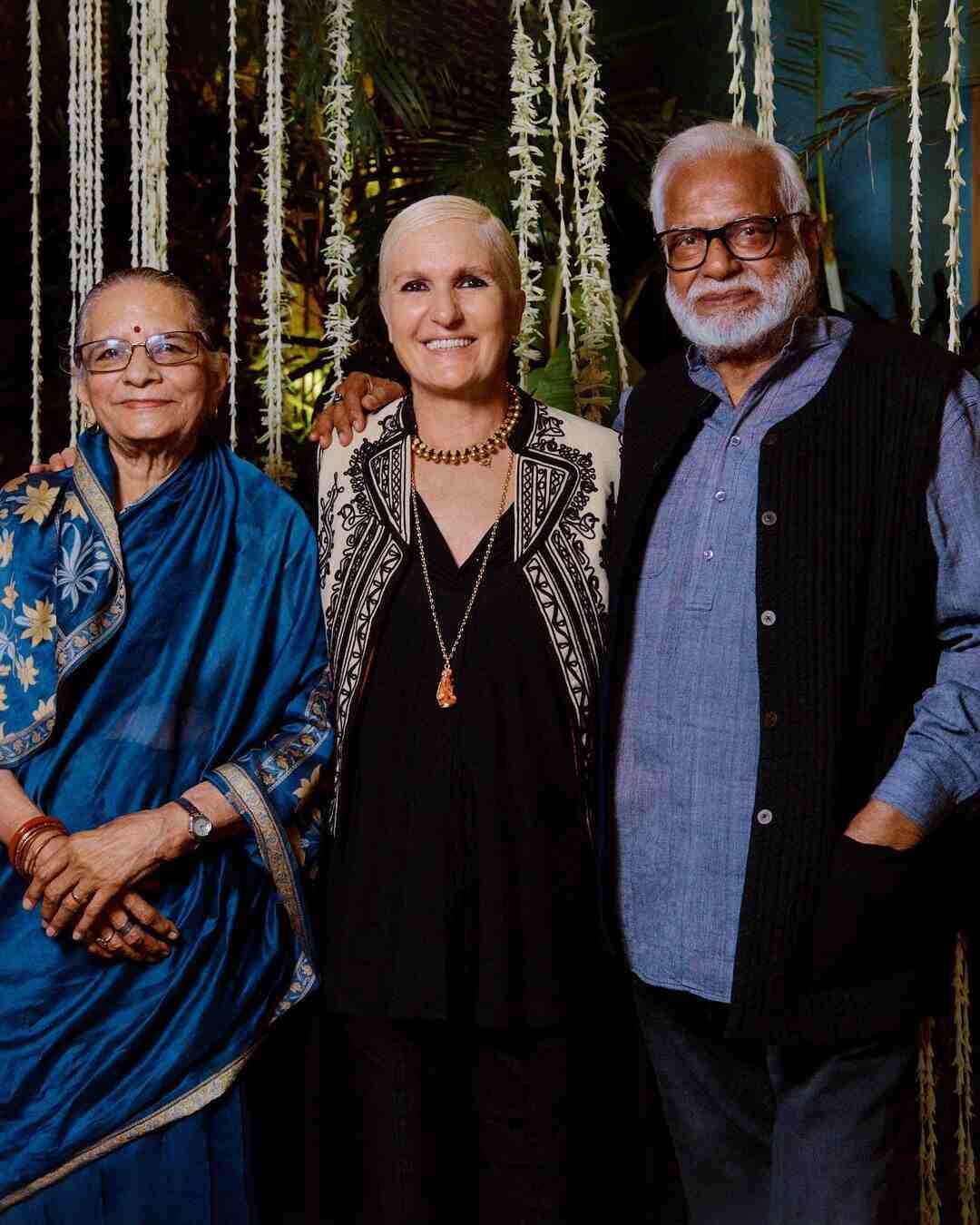 The recognition of Indian artisans by luxury brands is a commendable development that deserves to be celebrated. This positive step represents a significant move towards greater inclusivity, highlighting the crucial role of traditional crafts and the artisans who uphold them. With this recognition, we hope the artisans will have more support and opportunities in the future. It will enable them to continue practicing the time-honored crafts and pass them on to the next generation.
By illuminating the exceptional skills and craftsmanship of Indian artisans, global luxury brands are creating a ripple effect that goes beyond just the fashion industry. This step helps preserve the cultural heritage, safeguards age-old crafts, and encourages sustainable practices. Furthermore, they are contributing to the financial empowerment of marginalized communities, which plays a crucial role in building a more equitable society.
Maria Grazia Chiuri's big step to acknowledge and celebrate her love for India and Indian artisans also paves the way for other marginalized artisans to receive the same exposure and backing, not just in India but across the world. Luxury brands, with their global reach and influence, have the potential to create a positive impact on the lives of countless people. By embracing the rich cultural heritage of diverse communities and promoting their unique craftsmanship, the industry can inspire a renewed appreciation for traditional arts and crafts and foster a greater sense of inclusivity and mutual respect.
~ Written by Shambhavi and Utkarsha Rai