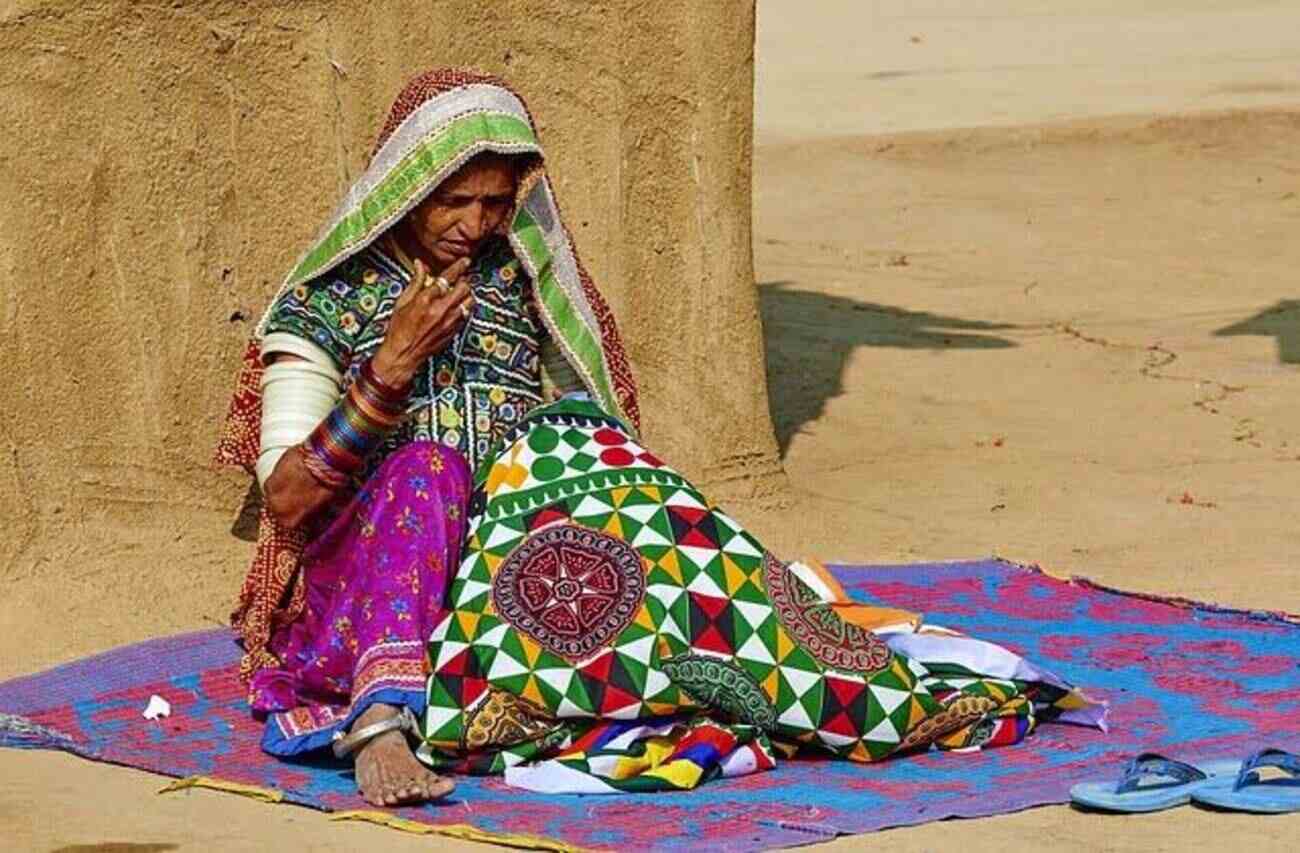 Touring India: Crafts from Rajasthan
P
opularly known as the "Jewel of India," Rajasthan has been a captivating destination for travelers, and has been mesmerizing people from all over the world for decades! A deserted land with golden sand dunes, where the streets are bustling with enchantment and liveliness. With its magnificent forts and palaces, traditional arts and crafts, exuberant festivals, and rich folklore, the state of Rajasthan offers a glimpse into the grandeur and opulence of its royal past.
In the realm of Rajasthan's handicrafts, each creation reflects the love and passion that goes into its making. With artistic expression at its core, craftsmanship in Rajasthan is not merely a skill or talent, but also a celebration of life and human experiences. The handiwork perfectly embodies the state's cultural heritage and traditions, and has rightfully attained its high status all over the globe. As reported by The Statesman, from 2022-2023, Rajasthan recorded handicrafts export worth over 9 billion USD! This figure provides enough evidence as to the ever-increasing demand of Rajasthan's handicrafts.
Here are some of the most renowned, ancient crafts from the state that have been gaining appreciation from art lovers across the globe.
The art of hand block printing dates back centuries, from the medieval times of the Rajput dynasty. Later, Mughal rulers brought Persian art forms, which further enhanced block printing. The Chhipa community played a great role in preserving this craft and passing down their knowledge and skills to the next generation. Each generation perfected the artistry and further refined the craft, finally leading up to what we know of block printing today.
The process of block printing is time-consuming and requires utmost precision. The technique has a series of steps starting from designing the motifs to printing and washing the fabric.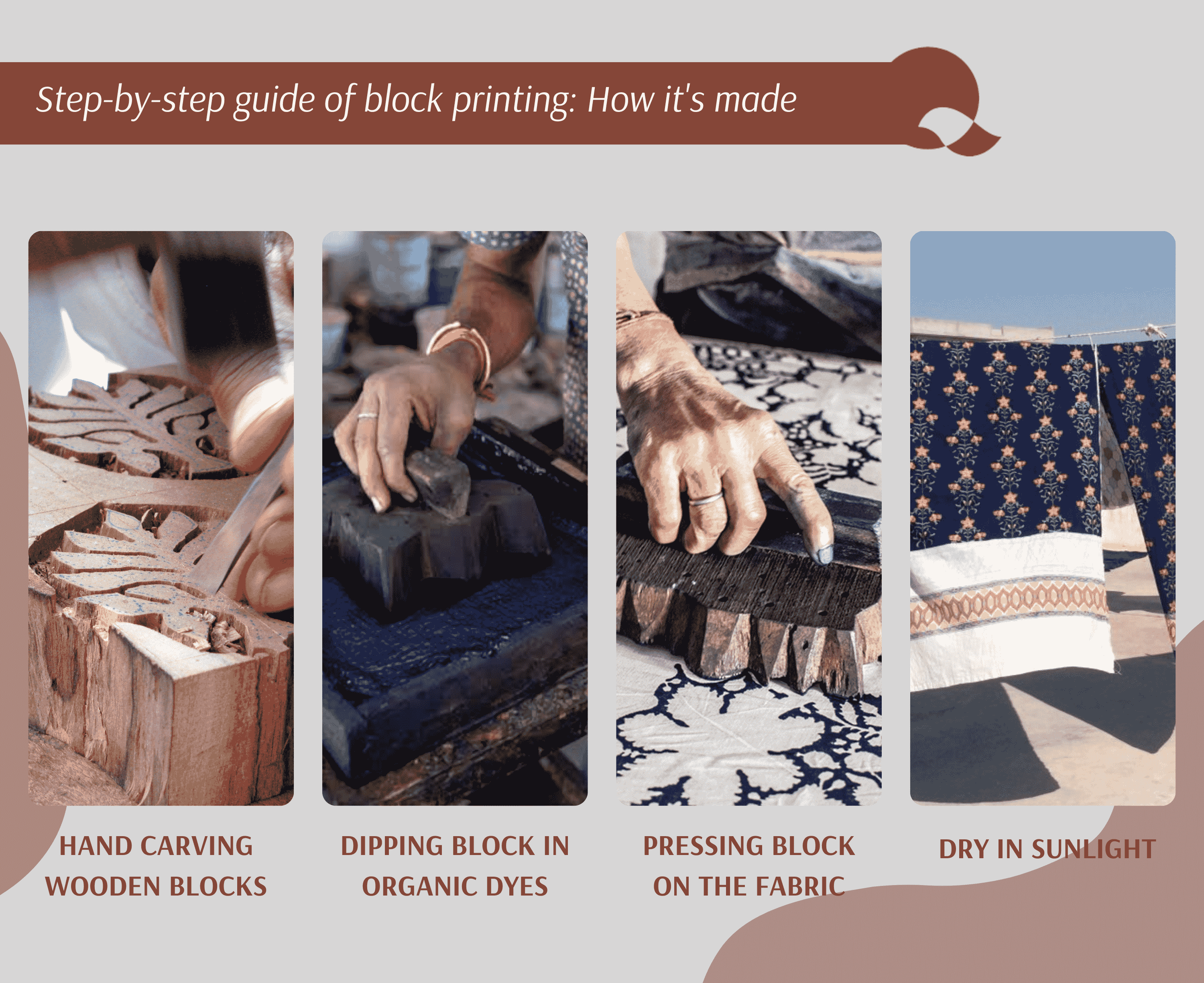 Jaipur and Barmer are known to be the most prominent cities of Rajasthan for block printing. Each region has developed its unique motifs, color palettes and techniques, but what's assured is that every block printed fabric from Rajasthan is made out of love and showcases the rich culture of the state.
Rajasthan has been the land of opulence and royalty since time immemorial, and its jewelry has gained such immense acclaim that the state itself is known as the "Jewel of India."
Rajasthan's love for jewelry traces back to the 7th century when the Rajputs used to rule the region. Being art connoisseurs, they held immense penchant for flamboyant jewels. Luxurious jewels were acquired as treasures and displayed everywhere. From heavily stone-studded necklaces to bangles, rings, and anklets, even the swords were ornamented with jewels! The royals of Rajasthan influenced and encouraged craftsmen to practice jewelry making with different looks and themes. As time went by, artisans explored their creativity and mastered every craft and skill, and ultimately forged a legacy that is now cherished by millions! 

Throughout history, the art of jewelry-making in Rajasthan has evolved significantly, and artisans have honed their skills with time. The vibrant colors of enameling, luster of precious stones, and intricacy of filigree work, every technique has blossomed into its own unique form. These forms not only showcase exquisite beauty, but also embody the regal legacy that defines the essence of the state. 
Widely known as enameling, this type of jewelry is known for its vibrant colors and complex designs. With a beauty so mesmerizing to whoever sets eyes upon it, this technique demands immense precision and patience.
The first step is to select a metal base, usually gold or silver. The metal surface is thoroughly cleaned and then polished to ensure a smooth application of enamel. Using hand-held tools, floral or geometric motifs are carefully etched on the metal surface. Once the design is etched, a thin coat of flux material is applied to the metal. Finely ground glass, combined with the flux, is then carefully sprinkled onto the designated areas. When heated to a very high temperature, the glass particles adhere to the metal, creating a vibrant and durable enamel surface. Artisans use fine brushes or needles to fill in the colors and apply them to the areas of the design. This step requires utmost precision as each color is individually fired, cooled, and then polished to achieve the desired brilliance. Multiple layers further add complexity and time to the process. Lastly, the jewelry goes through one final polishing process to enhance its luster and shine.
Thanks to its visual appeal, enameling has now transcended its traditional boundaries in Rajasthan. Artisans have expanded their creative horizons and infused this technique into a myriad of lifestyle products that elevate both aesthetics and functionality.
Known to be the most ancient art of jewelry making in India, kundan jewelry's prominence can dates back to the Mughal dynasty. The word 'kundan' means 'highly refined gold.' This is because it features precious stones or glass encased by the base of pure, and highly refined gold. The production process of making kundan jewelry is known to be extremely time-intensive and challenging.
The meticulous process of making kundan jewelry starts with forming a skeletal framework. Then, molten wax is carefully poured into the framework, so it takes on a desired shape. In the next step, artisans carefully put precious gemstones in the molten wax. After the wax is cooled, some artisans also enamel the jewelry to further enhance its beauty and artisanal charm. Finally, the stones and the jewelry piece are polished meticulously, unveiling a work of art that bedazzles everyone!
With lustre of pure gold and radiance of precious stones, kundan jewelry is a very popular choice among many women, especially the brides! Reflecting intricate craftsmanship and rich culture of Rajasthan, kundan has claimed its place as one of the most adored jewelry pieces in the South-asian subcontinent.
Steeped in the rich history of a tribal community 'Banjara,' this type of jewelry celebrates individuality and artistic expression. Renowned for its bold, statement look, these distinct jewelry pieces are adorned with colorful beads, coins, and ornate metalwork. The production process involves artisans making elaborate filigree patterns, delicate engravings, and other motifs that reflect the artistic legacy of the Banjara community. This technique has been passed down generations, serving as a cherished accessory that is now making waves among modern fashionistas!
Hand painting is a craft that has existed and flourished all over the globe. What sets Rajasthani hand painting apart from others is its miniature art. Rajasthan was the very first state of India that experimented with miniature paintings and has practiced the craft since. Rooting back to as early as the 15th century, hand painting in Rajasthan was introduced by Rajputs, who greatly appreciated art and encouraged the citizens of Rajasthan to create intricate paintings that would document history, mythology, and daily life. This led to the citizens of Rajasthan incorporating their local traditions and cultural elements into their art pieces. These illustrations were small, but highly detailed. Being 'miniature' in size, the brushes used for these paintings had really fine bristles, and were usually made of squirrel tails or feathers of birds. With passage of time, artisans started to use more easily-available synthetic bristle brushes and the results only got more refined.
Hand painting is a time-consuming process that requires steady hands and high level of patience and skill. With each artwork reflecting the state's culture details, let's have a look at the making of this craft.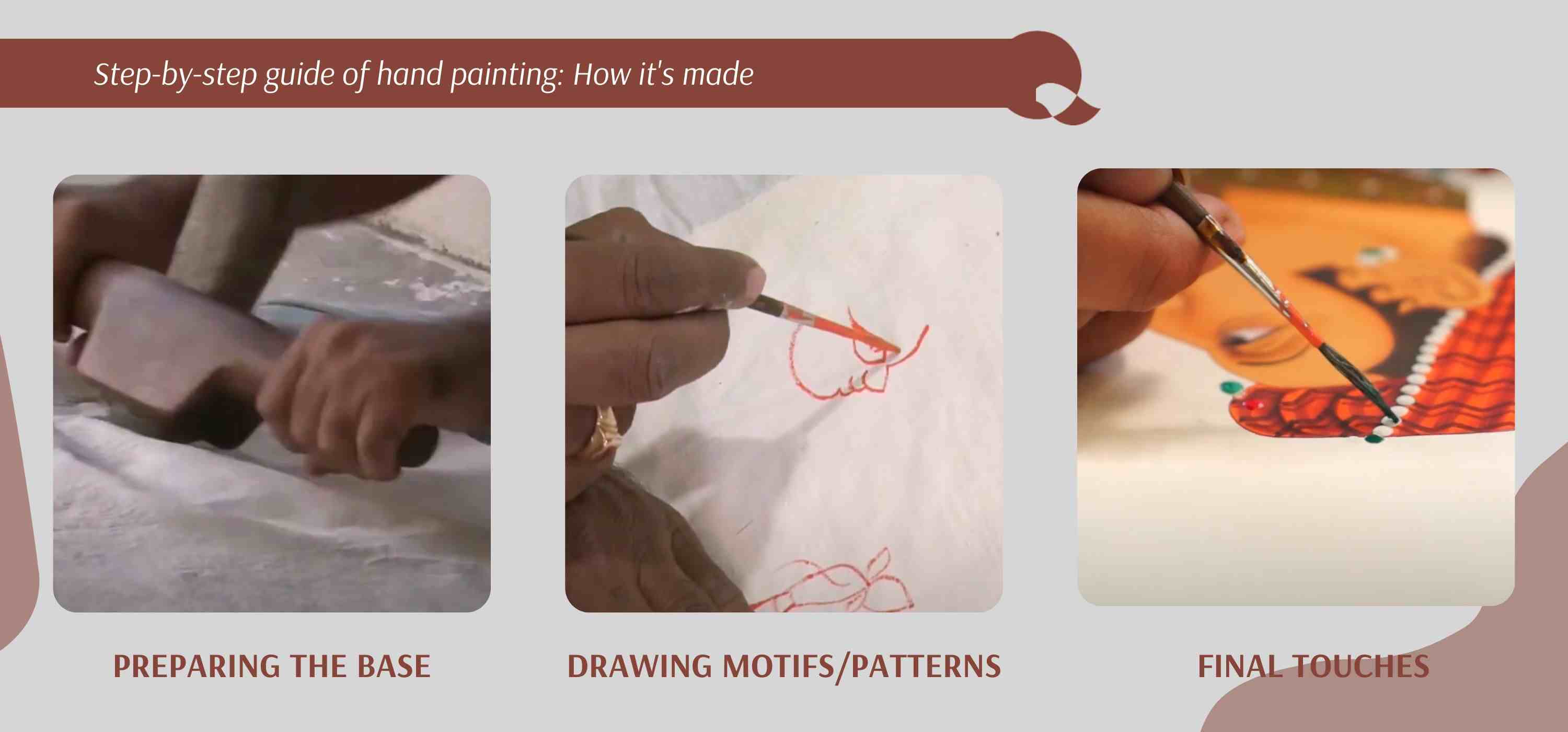 Throughout history, this craft has evolved into many forms like gemstone paintings, 'phad' paintings, 'kajali' paintings and more! All depicting various aspects of life, however still united by the same passion and dedication for the craft and storytelling.
Qalara brings forth a beautiful range of hand painted products with subtle contemporary twist.
Despite having Turko-Persian roots, blue pottery has made its name known around the world as a Rajasthani craft, thanks to the artistic touch of Jaipur craftsmen. An offering made by blue pottery is recognized by its signature blue and white color palette. Unlike other types of pottery, blue pottery does not rely on clay-based glazes. Instead, it uses a special mixture of powdered glass, quartz stone, and raw glaze materials. This unique composition creates a translucent effect on the pottery, giving it a distinct appearance.
Beyond its aesthetic appeal, blue pottery showcases the fusion of Persian, Chinese, and other indigenous influences, making it a captivating symbol of cultural exchange. The technique of blue pottery is also eco-friendly, as its production process involves the use of natural materials. Furthermore, the absence of harmful chemicals and use of lead-free glaze makes blue pottery safe for everyday use. The production process of blue pottery involves a series of steps, each contributing to the final vibrant piece.
The allure of Rajasthan's blue pottery lies in its delicate craftsmanship, vibrant hues, and intricate designs that adorn a variety of functional and decorative items. In today's world, blue pottery continues to enchant art connoisseurs, showcasing the artistic prowess of Rajasthan's artisans.
Rugs from Rajasthan deserve a special mention of their own. Encapsulating the heart of the state's culture and artistry, these rugs are locally known as "dhurries." The origin of dhurries goes as far back as the Indus Valley civilization. It was later in the 17th century that the dhurrie weaving craft was influenced by Middle-East tastes, under the rule of the Mughals. The union of these two weaving traditions made Rajasthan's rug-making industry what it is today.
The technique to making Rajasthani rugs is a laborious and meticulous one. Each step is done by hand from the dyeing of the material, to spinning, weaving, and finishing. Firstly, weavers carefully select a natural material like cotton, wool, or silk; and then handweave and dye it using natural pigments only, ensuring an eco-friendly production. With remarkable precision, weavers interlock all the threads, creating beautiful motifs and patterns. The entire process requires utmost attention to detail, resulting in rugs that boast impeccable artistry and alluring visuals.
Embodying a perfect blend of artistic influences, Qalara presents a variety of rugs for modern spaces.
Throughout its rich history, Rajasthan has witnessed the rise and fall of numerous rulers and witnessed societal customs evolve. Due to industrialization and the availability of more affordable and easily available products in the market, the arts and crafts of Rajasthan are being tremendously affected. Many artisans are now forced to abandon their traditional crafts and practice farming or migrate to cities in search of other employment opportunities. They are left with no choice but to let their traditional knowledge and artistic flair slip away, and take up other jobs to sustain their livelihood.
The government of Rajasthan has been taking active efforts to encourage the creativity, love, and dedication of the craftsmen and enliven the legacy of their traditional handicrafts. Many fairs or festivals are held in the state and handicraft stalls are established at tourist spots. Artisans are also being encouraged to incorporate contemporary trends in their creations to appeal to the modern audience. Moreover, artisans are being provided financial assistance as well as training to practice their crafts.
Qalara proudly joins this initiative by providing these artisans and manufacturers a global platform and presents a wide assortment of products made by the craftsmen of Rajasthan using traditional handicraft techniques.
~ Written by Yashvi Singh