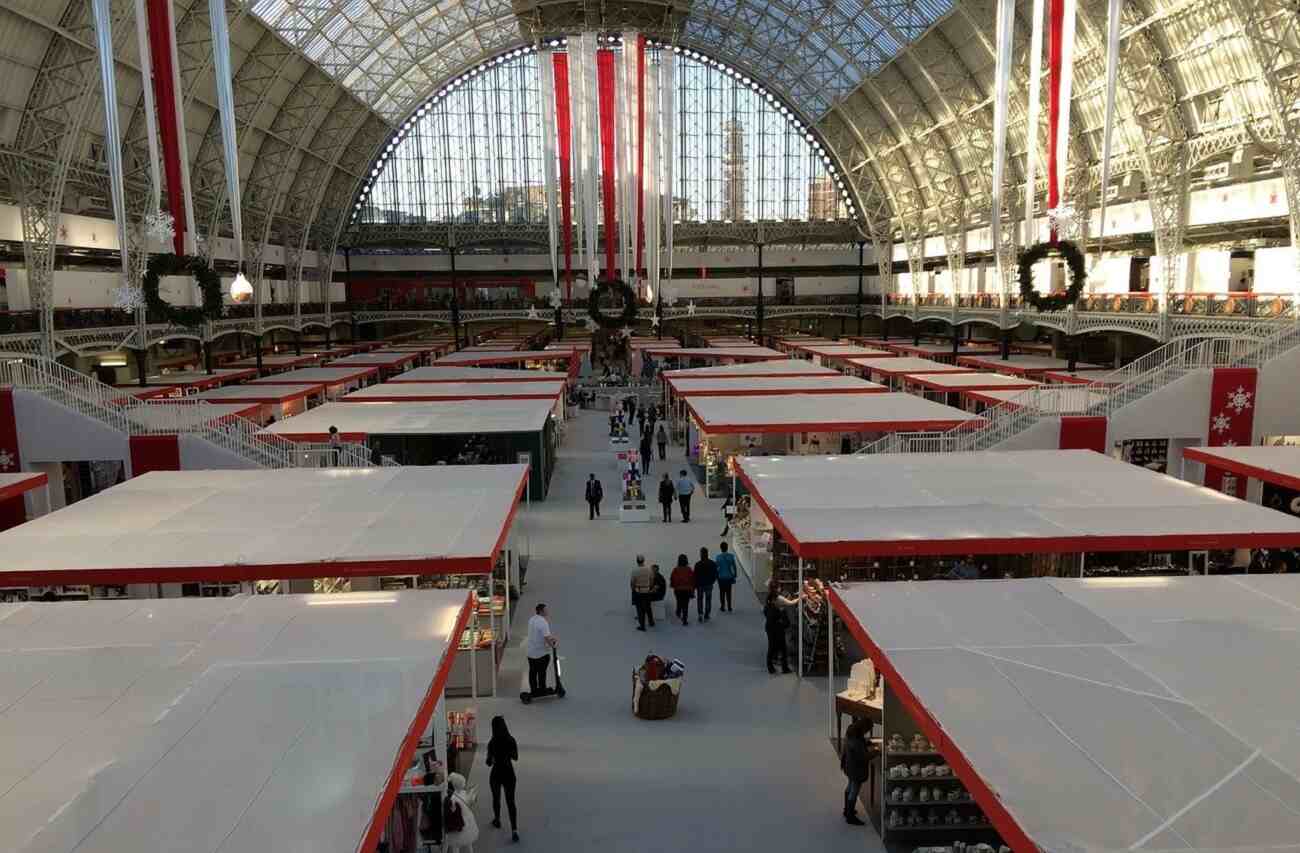 T
he trade show season can be a lot to take in. Brands and retailers all over brace themselves much in advance. Anticipating a perfect trade season, the focus is on catalog, display, merchandizing and visuals. Even after a whole lot of planning and prepping, participating in fairs can feel unnerving for novice and many experienced ventures alike.
Marketing, digital outreach, advertising, collabs are the significant – primary even – means of driving sales these days. But, expos and exhibitions are where the real action is centered. These events bring together industry experts and professionals keen to showcase their products and services. Hence, once you find your way in, there's immense potential to network! The dynamic nature of a trade fair can bring an influx of newer clients to you in a short span of time. As a brand or a retailer, you've got to tap the right opportunities so you can maximize reach and achieve growth in your business.
Qalara lists some crucial tips so you can increase your chances of success at trade shows. Read on to discover how to make a lasting impression and stand out from the competition at trade fairs.
Why should you attend or exhibit at trade shows and what do they offer to up-and-coming businesses?
1. Networking opportunities:
Building relationships and learning from the experts of the field can work wonders for your brand. Trade fairs offer just that. NY NOW, a popular wholesale marketplace estimated that 70% of exhibitors came to its show to launch new products. A convention of this sort can lead to new business opportunities and collaborations. An avenue to get-to-know and then eventually grow! As a retailer, you can connect with many potential clients or even enhance your own catalog by onboarding newer products you come across.
Amid a sea full of buyers and other retailers, you are bound to generate new leads and convert some of them into sales. Make sure you offer excellent experience to visitors by conducting demonstrations, sample giveaways, and extending promo offers. Such engagement strategies can draw attention to your stall and attract the crowd. This will eventually contribute towards the growth of your customer base.
With access to fairs, you get a free pass to explore the latest products and services from other exhibits. As per the scale of the event, products can range across styles, categories, themes, and trends! You can evaluate trendsetting offerings and thereby enhance your own resources so as to keep up. In the long run, such exposure will let you strengthen your own product, giving you the competitive edge. All in all, making your presence felt at these expos will pave the way for a newer, better, and more innovative version of your brand.
Amid a world full of inspiration, it is easier to get swayed and lose focus of what is at the fore. Wholesale fairs let retailers stay up-to-date with the latest industry trends and developments. Interesting seminars, discussions, workshops, and presentations are lined up at these exhibitions. While here, you can absorb unadulterated information about new technologies, best practices and regulatory updates. This can help you stay ahead of the curve and adapt to the volatile market. 
Past few years, the dialogue around sustainable design has been picking up traction. Coupled with fresh concepts such as artisanal creations, fair-trade offerings, women-led brands, and more, these trends make the market an ever-shifting entity. Only trade shows can give you a widespread and all-encompassing view of such trend-motivated products.
• How to leave a lasting impression?
Given that trade shows are an important rung on the ladder to success, how can businesses make the most of these fairs? Here are some ways in which you can leave a lasting impression at the next trade exhibition.
A hive of activity, a fair is bound to be bustling with visitors around the clock. In fact, NY NOW accounts for 10,000+ attendees annually! Amid this buzzing, the only way to draw people in is to make your booth stand out. Just like they say, first impressions matter!
Book a good spot which will assure maximum foot traffic

Locations in and around aisles, food stalls, and credible brands work best

Your booth should be visually appealing and pique the interest of passers-by. Remember, your set-up will be the first physical exposure the visitors get of your brand. If that draws them in, the job is half done

Use high-quality graphics, banners, lighting, and colors. These should ideally reflect your brand's aesthetic
Take a look here at how we at Qalara aced our presentation at NY NOW '22, by being brand-specific and one with our vision. Also pictured below is Qalara's booth at the AGHA Sydney Gift Fair 2023.
To offer the best visitor-experience, ensure your booth is easily accessible and has enough space to move about. Dedicate a small area to conduct one-on-one meetings in. Even a display of a wide variety of products should look neat and non-overbearing to the eyes. Make sure there is enough space to entertain the visitors, give them a tour while striking a conversation with them.
From signage to flyers and from handouts to all the creatives, make it a point that your brand-identity is imprinted across. To convey this information, use visually-rich mediums of instructions. Our brains are adapted to process visual information faster. Use the correct colors and typography for relaying the data. This will help visitors associate the information with your brand almost instantly. The average human attention span is about 8 seconds, hence your USPs and brand-specs should travel across to the reader in 8 seconds or less.
To make your booth stand out from the crowd, offer something unique that visitors will remember. This could be a product demonstration, a fun game, or a giveaway. Make sure it is relevant to your brand and industry.
About 70% exhibitors, notes NY NOW, attend its fair to launch new products. With a stage so vast and a community of visitors so diverse, what better opportunity to market your well-curated collection. Also, around 91% of buyers in attendance are searching for new and innovative products at the fair. When the stakes are so high and potentially favorable, it is wise to assemble a collection that is expansive yet converges to tell the same story. That of your brand's vision.
Be business-smart and plan much in advance. Conduct thorough consumer-behavior research to gain foresight on what kind of products buyers are on the lookout for. According to these findings, your trade fair catalog could entail several standout collections. These could range across categories and themes!
While at NY NOW Summer Market '22, Qalara's booth radiated its very essence through the collection on show. The products were homespun, muted, rustic, wholly artisanal and represented the core values of Qalara at first glance. The focus should be on composing an incredible catalog whose very essence and memory will stay with the buyers long after they have walked away.
NY NOW surveyed that around 63% of buyers are more likely to purchase a product for their store after seeing it at the fair. The impression you leave at such trade shows, therefore, can make or break future collaborations and connections. For this purpose:
Ensure that your staff present at the fair is knowledgeable

Those tasked with receiving the visitors have to be extremely well-versed with the product. They should be able to effortlessly answer questions and provide information

The personnel should know the product and services you offer in depth and be able to elaborate on the whys and hows of the process

Grasping the correct moment, they should seamlessly be able to convey the uniqueness of your brand

They must be tactful enough to incorporate your brand philosophy and the importance of your vision, every now and then in a conversation

Finally, they should be able to bridge the gap between just visitors and potential customers
To achieve that, provide holistic training to your staff. Conduct a couple of mock tests to ensure they are well-prepared to handle various scenarios and even troubleshoot, if required.
Waiting around for visitors to approach your booth will do you no good. Rather, pique their interest so you actually rope in all the curious stares to your stall. Be enterprising and engage with visitors. Enhance the on-site experience and curate events to draw in the crowd. Once that is achieved, keep their interest levelled by asking open-ended questions. Do also listen to their needs and concerns. Provide information and solutions that are relevant to their requirements.
6. Promote proactively on social media:
Today's information age is all about the 'optics.' How you carry yourself and the way you are perceived by others account for heaps! Same goes for your brand.
Digital marketing and social media have become the deciding factors of brand strategy and success. Having an active social media presence is hence a must. This can help popularize your brand by improving website traffic, giving new leads, and keeping your existing client-base well-informed. According to Statista, increased exposure is the leading benefit of resourceful social media use. Hence, while at it, why not use it to your advantage?
Plan a string of social media campaigns. Remember to:
Inform your followers well in advance about your exhibition plans

Promote the forthcoming line of events and the agenda. This will give your existing loyal clients an update on your journey

Talk about your catalog, its process, the themes and collections you intend on displaying

If possible, conduct live virtual video sessions while at the fair to give the client-business connect a much more real-time dimension

Keep your social media pages fully updated with posts and short videos that use the correct hashtags. This will attract and engage new audiences with interests that align with the services you offer
After the trade show, reach out to promising options from the event you felt could potentially become your clientele. Employing tactics such as sending cold emails and newsletters can churn out fair results too!
7. Banners, posters and catalogs:
Ensure the visual aids you erect at your booth are made with much care and consideration. Any banners, standees and signages you use have to be designed with consistency across. While making such creatives, remember
the photos need to be of good quality and high-resolution

the colors used should merge with your brand story

the font style should appear professional

the textual content should be relevant and cater to the target audience
A highly successful run at the fair is not the be-all and end-all of your trade fair journey. In fact, it is just a gateway into what's to come next. Whether your stint at the expo proved to be a lucrative outcome that forged sustainable connections will depend on how diligently you tackle the aftermath. To do that:
Follow up with the leads you generated

Send personalized messages and targeted emails thanking the leads for their time

Offer further information and instigate the dialogue about how to pursue things ahead

Explain the process details and reiterate the benefits they could avail if they order from you

Demonstrate your commitment by promising end-to-end customer service
Remember, interest has to be shown both ways. Hence, leverage your position as the service provider, and nurture the connections you formed!
If you wish to participate in your first or next trade show, here are some brilliant opportunities to explore.
Attending trade fairs is an essential part of a retailer's growth strategy. Businesses get a platform and a chance to be amongst hundreds of sellers and retailers vying for the spotlight. For increased chances of success, prepare diligently. Qalara hopes you have a fruitful fair experience which celebrates your products and leaves a lasting impression on the audiences!