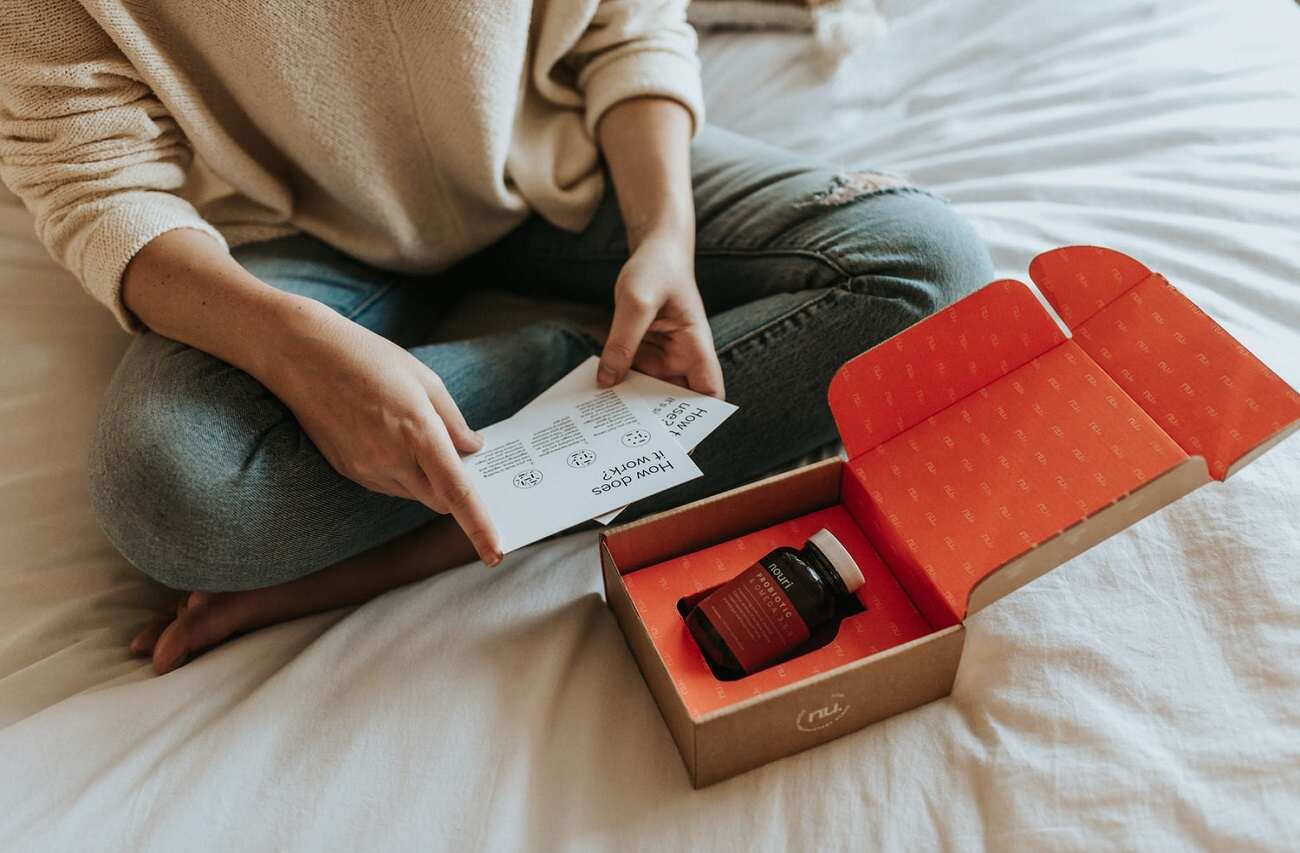 A
ccording to a report published by The Guardian, 70% of consumers view brands that use sustainable packaging and recycled materials more favorably. Contrary to common perception, eco-friendly packaging does not have to cost you a 'packet.' Yes, the question of quantities is often a cause of concern for small businesses, but you could smartly navigate through the challenge with effective packaging options that aren't too heavy on the pocket. Remember, packaging isn't just about the material, it is also about 'how much' material you use. Simply using less material can work wonders too. Value engineering is the process of redesigning packaging from the ground up with the aim of saving money - and believe it or not, you can save big bucks by using less packaging. Raylo, a London-based start-up was able to achieve an 11% decrease in packaging costs, as well as a 25% reduction in weight with smart packaging.
Qalara

lists out a few useful tips to help you choose the right packaging solution for your business.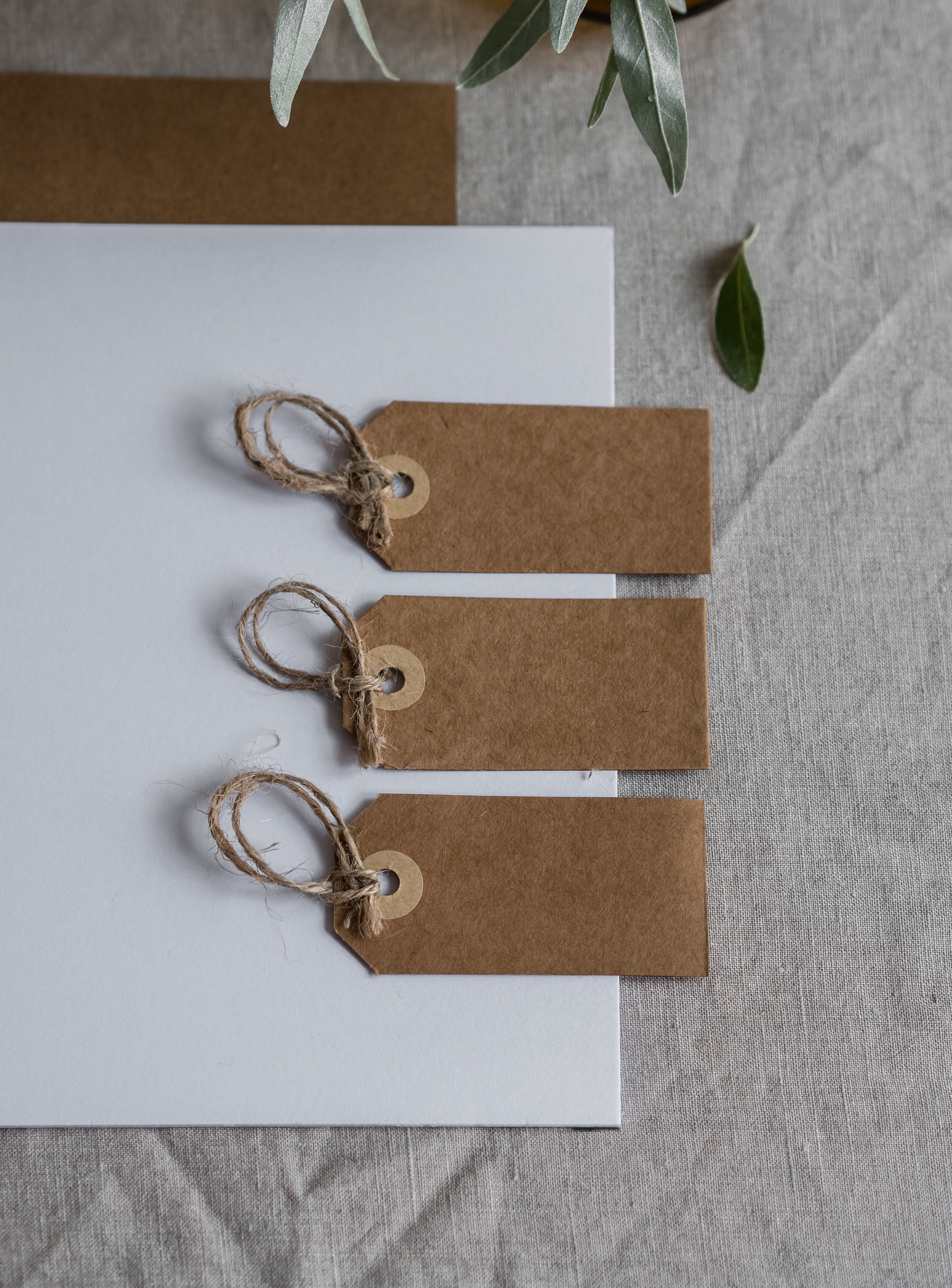 A great hang tag is more than just about price and your brand name. You could get creative and add a small note on your brand, your values, your USP and more. Because these tags are as small as business cards, they can be bulk printed in a variety of stocks, colors, foils, on a budget. Hang tags can be made from a variety of eco-friendly items including recycled paper, seed paper, re-used paper, bagasse paper, wheat straw paper and even the very promising and newly emerging in the arena, poop paper! 
Ideal for: Apparel, bottles with a neck or handle
Go green: Secure the paper tags with a jute string
Simply put, header cards or bag toppers are stock printed, folded, then stapled to a bag holding your product. Not only is this packaging option inexpensive, it also is a means to hang the product, give full view of the product through the transparent poly bag and also serves as packaging closure. Interesting artwork, illustrations, engaging copy can further enhance the impact of these cards.
Ideal for: Stationery, fashion accessories, toys, spices and condiments
Go green: Use recyclable poly bags with paper header cards
These are great because you don't need secondary packaging while opting for this method. Another benefit is that you can pack more information about your brand and product given that these cards give you more space and are generally available in sizes ranging from 2", 6", 8" to even 10". This inexpensive solution is ideal for products that can be exposed. To save a little more, cut down on the number of colors used in the printing. 
Ideal for: Pet toys, children's toys
Go green: Secure the backer cards with a sturdy jute string
The humble label is often devalued and branded as being archaic or old-fashioned, but with engaging messaging, it can look gorgeous on a classic kraft colored box and can be super eco-friendly too. It can also be used as a seal or closure, making the product appear tamper-proof and unused. Labels can be created economically in smaller volumes. Brands can utilize diverse options available including compostable, bio-degradable, organic, and recycle-friendly labels while heeding the fact that their labels have to be responsibly sourced to further the sustainability agenda. Remember, your packaging should have environmental benefits, after all.
Ideal for: F&B, grooming products
Go green: Stick the label on a classic kraft box and you have a product that can rival many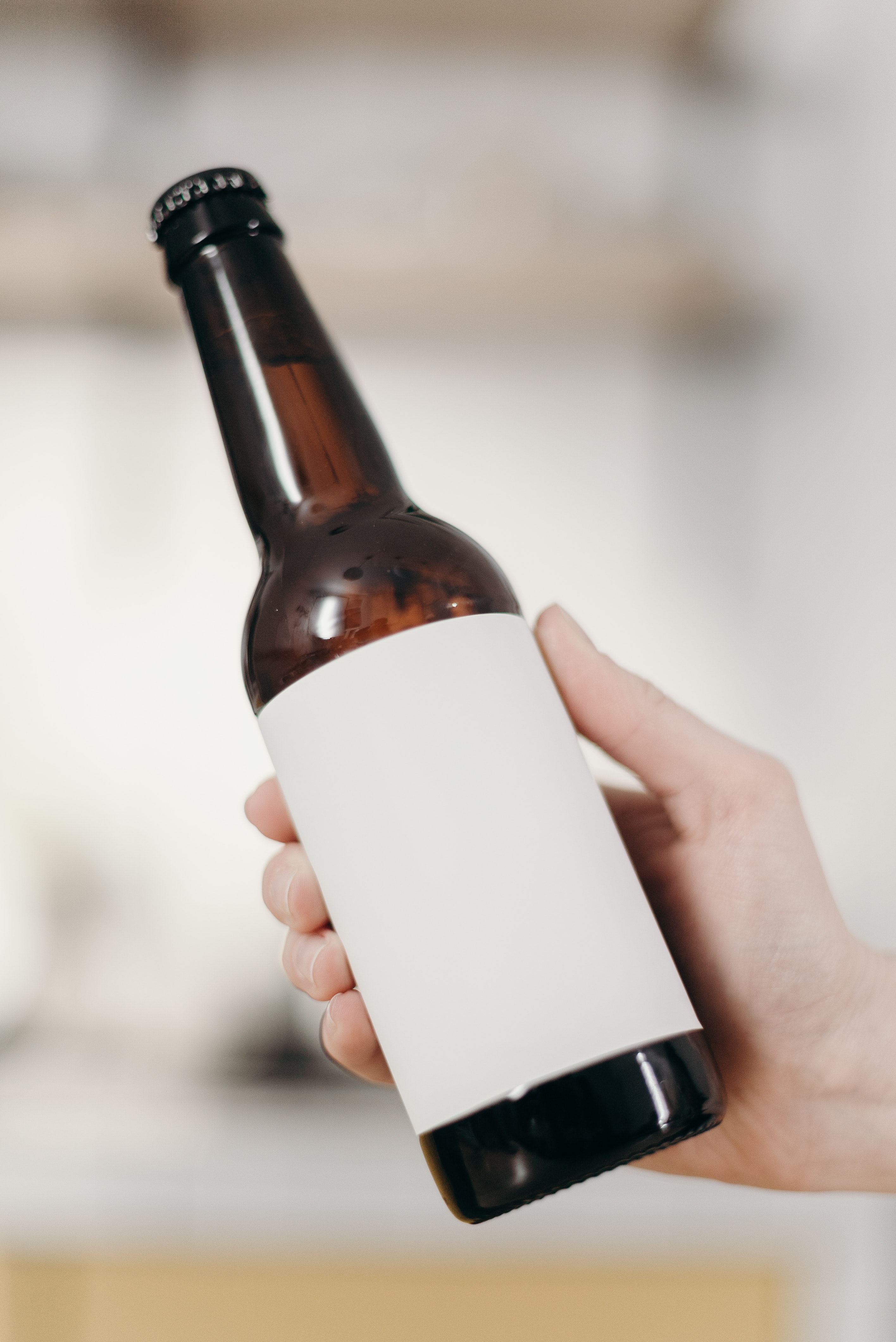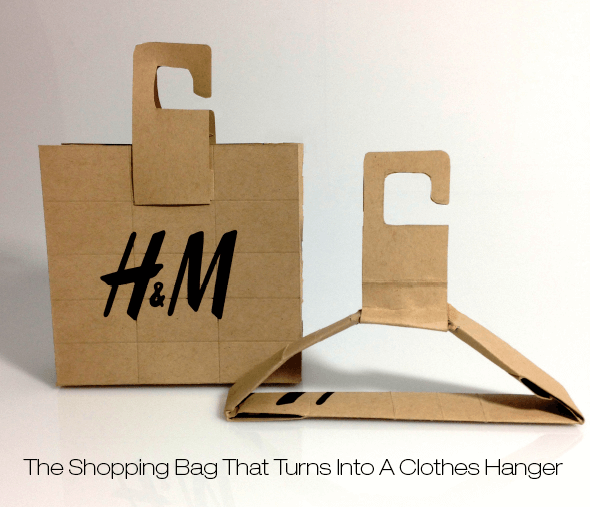 If you do your research well and are creative, you may be able to come up with a packaging solution that doubles up as a store display and a take-home packet. H&M, a brand that lays strong emphasis on eco-friendly paper packaging, uses kraft hangers that double up as take away bags. Even though these aren't exactly cost-effective to produce, bear in mind that you will be saving the cost of hanger display and final packaging if you take this route or an inspired approach. 
Ideal for: Fashion and accessories
Go green: Use eco-friendly corrugated paper 
Water-activated
paper
tape
This tape is the manifestation of magic indeed! It is exactly what it sounds like. It's a sealing tape for your packaging needs, made out of paper that is activated by water! Forget plastic, glue and clear tape, this paper tape gives you the same results while upholding your ideals of eco-friendly sustainability. You don't have to worry about it being not adhesive enough. Once activated with water, it acts just like any other high resilience sealing tape. You can customize these tapes by printing your brand logo onto it.
Packaging? Check. Branding? Check!
Ideal for: Accessories, garments, stationery
Go green: Use just the right size of strips to secure the top of your boxes to avoid wastage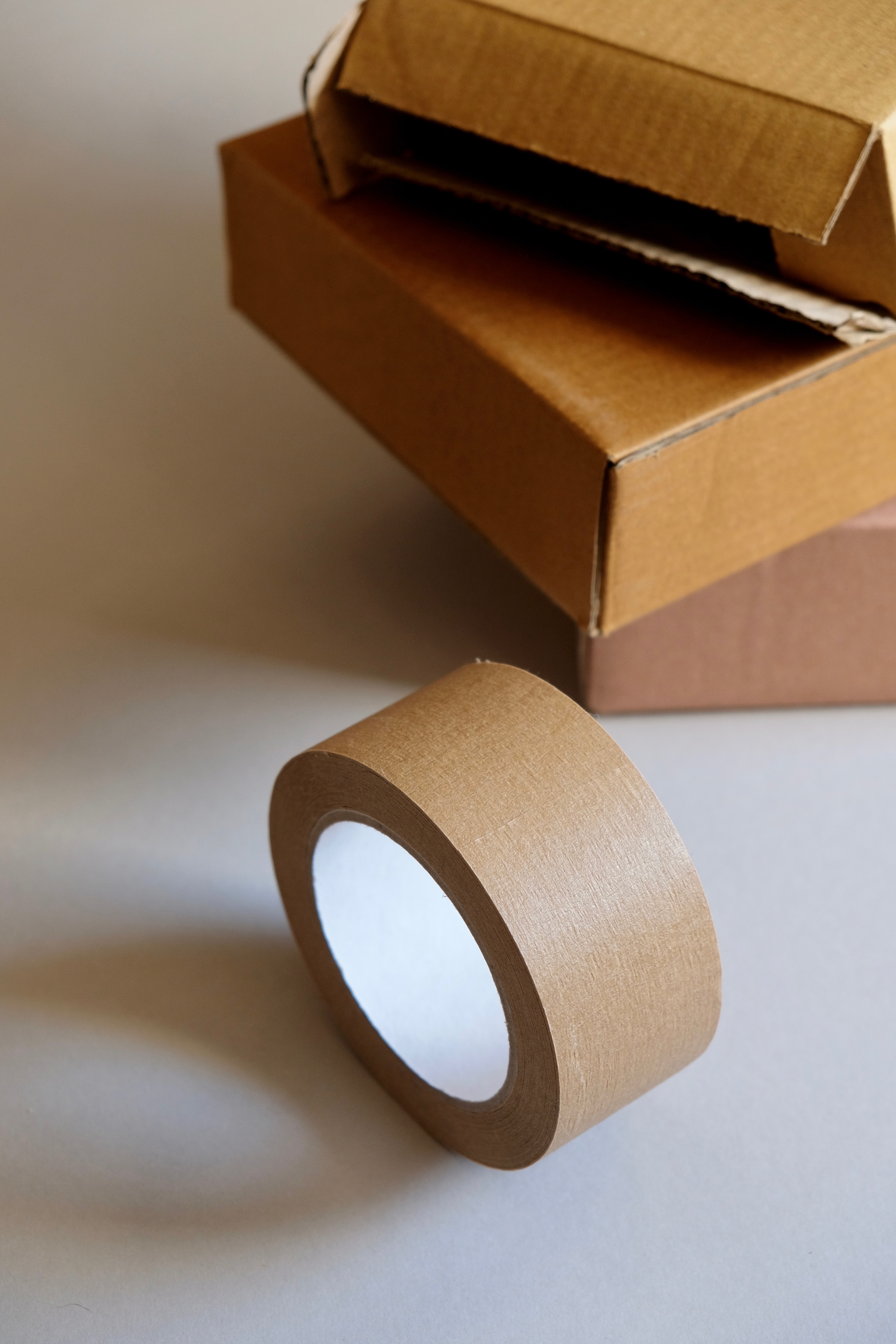 Eco-friendly honeycomb paper wrap is a fantastic alternative to the conventional plastic bubble wrap. Lightweight and durable, honeycomb paper wrap is designed to provide adequate cushioning and shock-absorption, allowing for a reliable safe transit of goods. What's more, since it is lightweight, it can significantly reduce the weight of shipments, thereby reducing freight cost effectively

Ideal for: Decor, stationery, all things breakable/delicate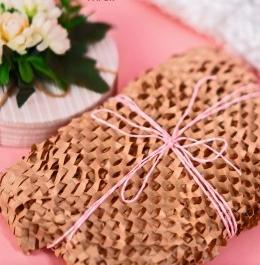 FSC-Certified
packaging
meets
branding
FSC or the Forest Stewardship Council advocates responsible and conscious packaging. Their core values help them fulfil the demand for packaging that is sustainable, renewable, trustworthy, and all things eco-friendly. They source their materials from designated forestlands that are especially reserved for sourcing packaging materials. This effectively curtails large-scale deforestation and forest clearance. But how does one identify whether the packaging is FSC-certified? An FSC-Certified Packaging product will have an FSC Certification mark. This will inform you that no illegal destruction of trees took place for your packaging needs. FSC products offer bags, boxes, cartons, and plenty of other packaging alternatives. Team this with your business logo printed on the package sealing tape and you've hit the bullseye! Your customer will be informed of your eco-conscious choice while consuming your brand's product. We suggest you make the switch now!
Ideal for: Clothes and apparels, heavy weight products
Go green: A side-tip – The FCS marked paper bags look very hip indeed!
…lets you have a look at an artisan branding a copper article so very deftly!
(Video courtesy: Qalara sellers)