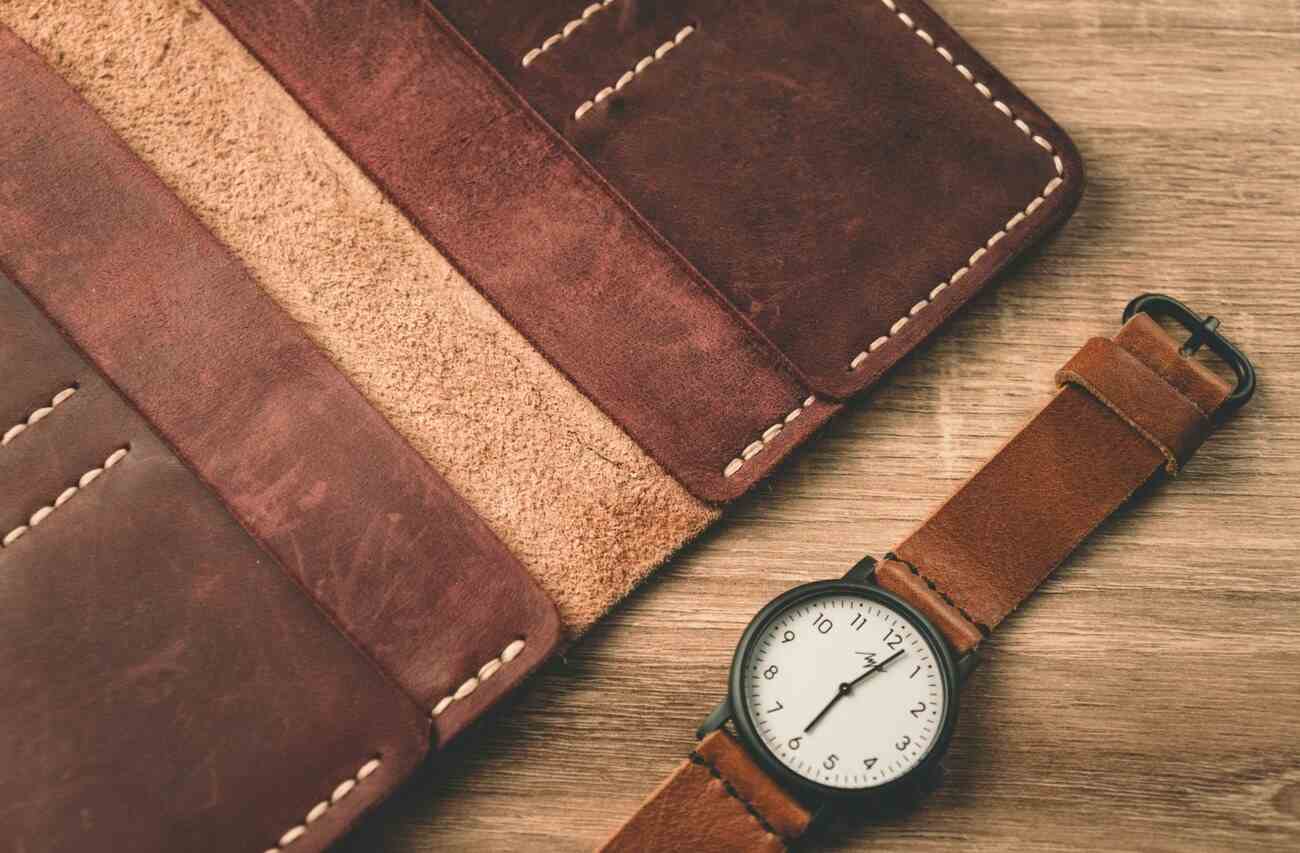 Debunking myth: Eco leather vs faux leather
A
midst the ebb and flow of changing times, shifting trends, and evolving movements, leather has stood tall as an unwavering icon of style and luxury. Even in the current times where fleeting fashion is at its peak, leather continues to capture the hearts of fashion moguls across the world. As global discussions surrounding climate change, sustainability, and ethical treatment of animals have gained momentum, eco and faux leather have risen to prominence as preferred alternatives to traditional animal-derived leather.
According to Precedence Research, in 2019, the global synthetic leather market was valued at $29.6 billion, and it is anticipated to exhibit a compound annual growth rate (CAGR) of 4.6% from 2020 to 2027. This growth trajectory is expected to result in a market value of approximately $40.5 billion by the year 2027. Moreover, another research by MarketsAndMarkets reported that the bio-based leather market reached a worth of $647 million in 2021, with projections indicating it will grow to $868 million by 2026. This growth is forecasted at a 6.1% compound annual growth rate (CAGR) from 2021 to 2026.
In a nutshell, the leather industry is poised for steady growth year after year. This blog post by Qalara explores 2 of the most widely recognized types of leather, examining their attributes, production methods, and more. Additionally, we will also debunk some common misconceptions to empower our customers/readers and help them make responsible choices that may resonate with buyer preferences and values.
In the current age when consumers are embracing sustainable lifestyle, eco leather has emerged as a shining star in the industry. Also known as sustainable leather, this material is a cruelty-free alternative to real leather. What gives this type of leather an advantage is that it is more environmentally friendly and ethically produced compared to natural leather. It is specifically designed to mimic the look and feel of traditional leather, but without using animal products or harmful chemicals.
Eco leather is also known for its softness, durability, stain-resistant property, and resistance to wear and tear, making it a favorite for sustainable shoppers. It has been making its way into various categories like fashion, accessories, home decor, furniture upholstery, etc., and is particularly used in luxury bags, wallets, belts, shoes, etc.
This type of leather is made from a variety of plant-based materials like pineapple leaves, apple peels, cork, palm leaves, mushroom mycelium, etc., offering a sustainable alternative without compromising on style or quality. The idea of plant-based leather has been around for decades, but it was actually in the 2010s that this type of leather gained significant attention. Several researchers and innovators around the globe have come up with various types of eco leather, all derived from plants or fungi. Here are two of the most popular eco-leather types that have been gaining lots of traction in today's age.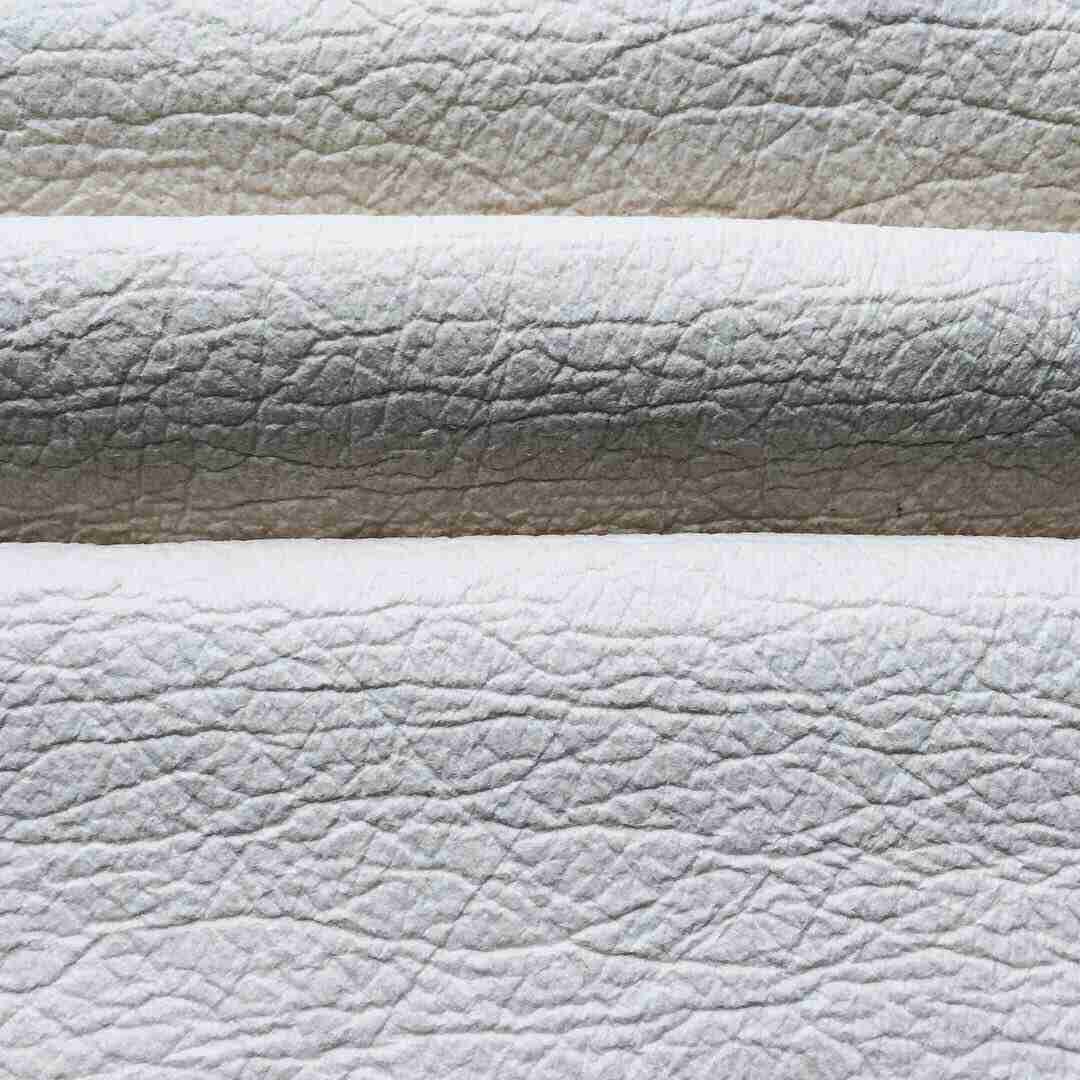 Developed by Dr. Carmen Hijosa, Piñatex is a natural material crafted as an alternative to real leather. It is made from pineapple leaves, which are usually the byproduct of agriculture and fruit industry, making this material natural, sustainably-sourced, as well as cruelty-free. Piñatex has a texture similar to traditional leather, and is also available in many colors. It is lightweight, breathable, and if cared for properly, long-lasting as well!
To make Piñatex, fiber is extracted from pineapple leaves, which is then processed to create a non-woven textile material. The fibers are then cleaned, degummed, and felted together to form the final fabric. Moreover, the biomass left after fiber extraction is then used by farmers as a natural soil fertilizer, making the material as well as its production process eco-friendly! The Piñatex fabric is then used to make fashion products, accessories, upholstery, and more.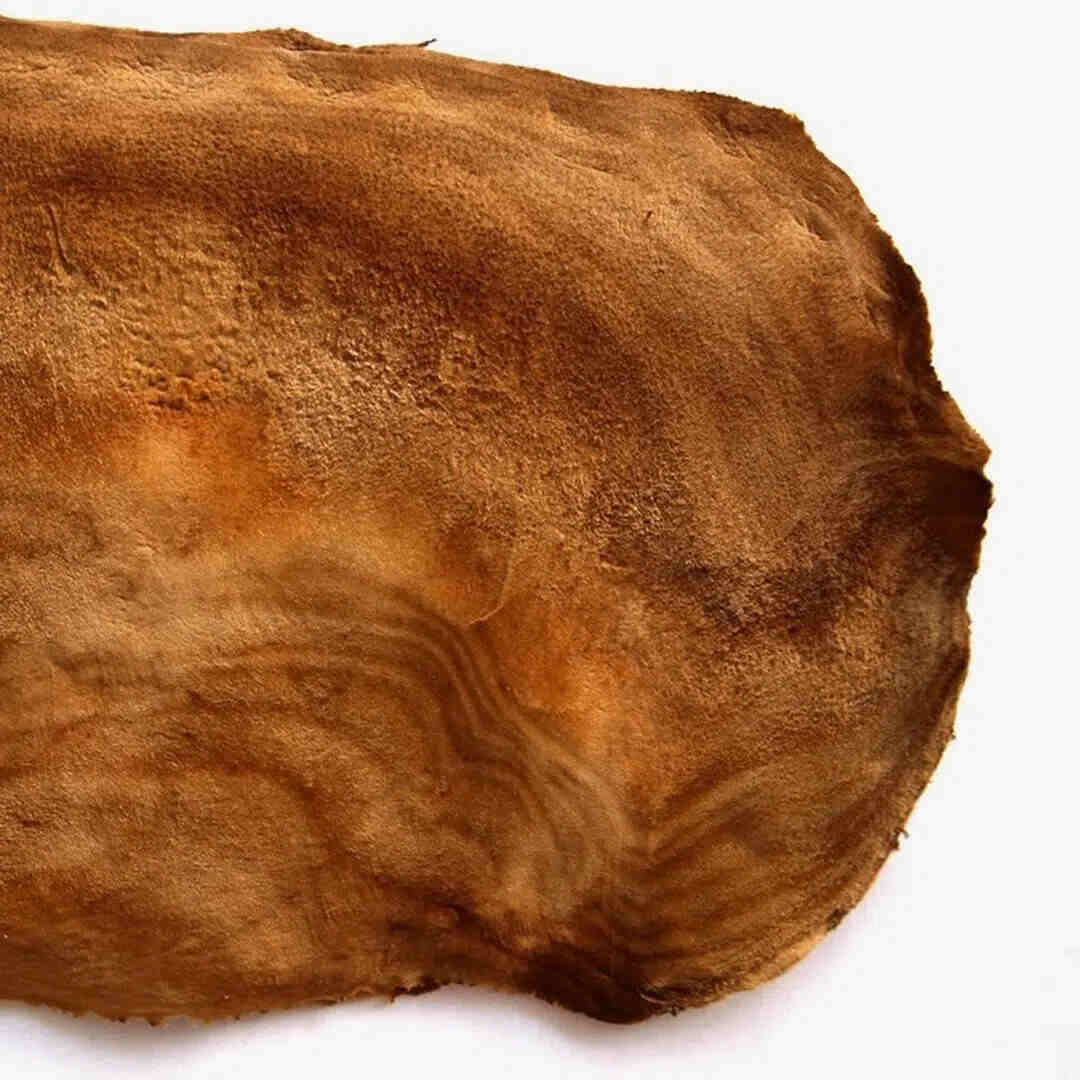 Presented by Grade Zero Innovation, MuSkin is another sustainable alternative to real leather, derived from Phellinus ellipsoideus mushroom. This leather's appearance and texture are identical to real leather. It can also be dyed and treated to meet various fashion and design requirements, making it a perfect pick for eco-conscious fashion houses.
MuSkin is made by harvesting mushroom caps without harming the vegetative part of the fungus. The caps are then processed and transformed into leather-like material. The manufacturer, Grade Zero Innovation, also revealed that this material is treated without toxic substances and is plastic-free.
As of now, this type of leather is only apt to manufacture limited edition collections as only 40-50 meters of MuSkin can be produced in a month. Nevertheless, it remains an excellent alternative that can reduce the environmental impact of the textile industry while maintaining stylish appeal.
What gives eco leather an edge compared to other artificial leathers is that it is derived from plant-based material, making it sustainable as well as ethically produced. Moreover, it also generates less or no harmful emissions as a byproduct of material processing.
Eco leather manufacturing is still an in-process field therefore it is not yet readily and popularly available compared to traditional leather. Moreover, it can also prove to be costly for consumers due to its sustainable manufacturing process. Either way, it is still a compelling solution for individuals and industries seeking more sustainable and environmentally responsible options.
Faux leather is undoubtedly the most popular and commercial real-leather substitute. Also known as vegan/synthetic/artificial leather, it offers a cruelty-free alternative to traditional animal-derived leather. It also provides a cost-effective option to consumers who wish for leather products without the high price tag.
Faux leather is best known for its affordability, durability, and easy maintenance. It closely mimics the texture and appearance of real leather, making it suitable for various applications like clothing, fashion accessories, upholstery, decor, and more!
The earliest form of artificial leather, Prestoff, was first seen in Germany in the 19th century. This type of leather was specifically designed during the second world war, as genuine leather became strictly rationed in the country. It then continued to become known among the masses for its affordability and leather-like appearance but failed to get recognition from international consumers. Later in the 20th century, faux leather gained appraisals from all over the globe after the invention of Naugahyde in the United States, in 1920. Since then, faux leather has been continuously redefined by designers and manufacturers and has expanded its presence into diverse fields.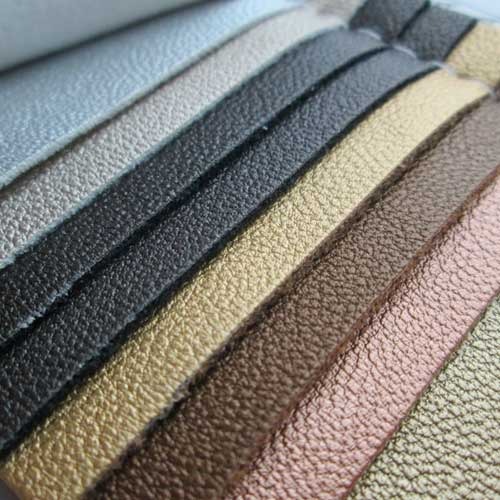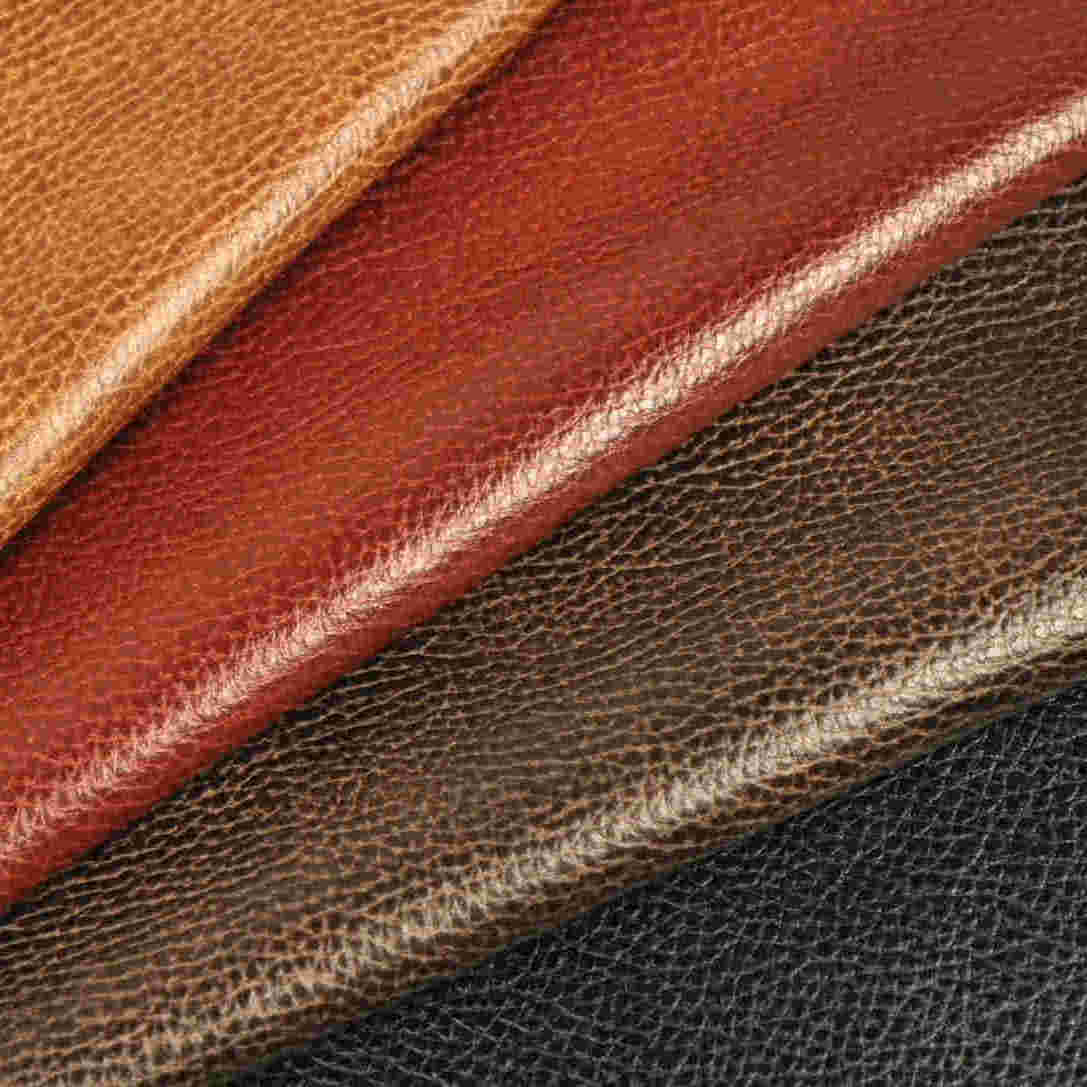 Faux leather is primarily composed of plastic-based compounds. The most common form of faux leathers include polyurethane (PU) and polyvinyl chloride (PVC/Vinyl).
This type of leather is a cruelty-free and affordable alternative to genuine leather. It has a leather-like appearance but its texture may have a plastic-like feel. Nonetheless, it has proved to be the most commercial form of real leather alternative due to its versatile nature. It is affordable, easy to maintain, ideal for daily use, and can be customized in terms of structure and color to suit specific design requirements.
PU leather is made by coating a base fabric with polyurethane resin, embossing and texturing the material to give a leather-like grain. It is then dyed, cut, and sewn, as per the design requirements. The final material closely resembles leather and is then majorly used in the fashion industry in making apparel and accessories, thanks to its high breathability.
2. Polyvinyl chloride (PVC/Vinyl)
Also known as PVC or Vinyl, this type of leather is best known for its durability and resistance to moisture. Its production process consists of the same steps as PU leather, except that its base material is coated with polyvinyl chloride.
This type of faux leather is commonly used in furniture upholstery, diary covers, decoratives, and automotive interiors due to its water-repellent properties.
Regardless of these differences, both these types are widely used in apparel, accessories, upholstery, home decor, and really, anything!
It is worth noting that in recent years, faux leather has achieved a level of quality that strongly resembles real leather, and one may not be able to ascertain its authenticity without the product label. Its affordability, easy maintenance, and versatility have gained applause from fashion enthusiasts worldwide! 
However, one cannot just look away from the environmental impact these man-made materials cause. Being non-biodegradable, disposal of faux leather products contributes to landfill waste. In addition, the production process of this material includes the use of toxic chemicals that cannot be reused and eventually end up harming the environment. There are no exact estimates but according to experts, PU and PVC leather can take at least a minimum of 200-500 years to biodegrade, meanwhile, real leather is decomposed within two decades.
Let us now look at some of the most common myths surrounding faux and eco leather, shedding light on their true qualities and advantages.
Myth 1
Faux leather is harmful to the environment
While it is absolutely true that synthetic leather can have negative environmental impacts, it is also important to note that different types of faux leather are created differently. For example; PVC leather is considered to have a significant impact on the environment compared to PU. Furthermore, in recent times, manufacturers have also started embracing vegetable oil leather, which offers the same cruelty-free advantages as PU and PVC, while also minimizing the environmental footprint.
Myth 2
Faux leather is less stylish
Although real leather texture cannot be replicated to the T, modern technological advancements create almost a replica. Moreover, this type of leather is also available in many colors and designs, making it one of the most in-demand type of artificial leather. The fashion industry specifically, has embraced faux leather and created such stylish, on-trend pieces that look almost identical to real leather. 
Myth 3
Faux leather is plastic-like
Earlier versions of faux leather certainly had a plastic-like feel but with improvements in technology and production processes, manufacturers are now able to create faux leather that is soft and comfortable.
Myth 4
Eco leather is not durable/long-lasting
Being a plant-derivative material, eco leather is perceived as less durable. However, in reality, eco leather is as durable and long-lasting as real leather. It just needs proper care and maintenance. This can include gently cleaning, avoiding bleach and liquids, avoiding exposure to direct sunlight, and gently rubbing with baby oil or leather food twice a year to avoid material cracking.
Myth 5
Eco leather is expensive
It is true that some eco leather options can be pricier than conventional leather; however, this statement does not apply universally to all types of eco leather. The cost of an eco leather material depends on the availability of the material's plant derivative and its manufacturing process. For example, materials like Piñatex and Cork leather; they may have slightly higher upfront costs, but they still offer significant ethical and sustainable benefits that justify their price tag.
Myth 6
Eco leather contains harmful chemicals
While many eco leather products are specifically designed to minimize the use of harmful chemicals, not all may be entirely chemical-free. Eco leather greatly varies in terms of the chemicals used during its production, so it is essential to consider the specific type and brand of eco leather. It is essential to look for products that have authentic certifications, proving their commitment to sustainability and low chemical usage. For example, OEKO-TEX is an organization that certifies brands that are environmentally and chemically safer. One can also check for a 'chrome-free' tag on the product to ensure that it does not have any toxic substances.
With more development and innovations in the field, the future of eco-friendly and affordable leather is sure to become a successful reality. Here are some other real-leather alternatives the industry will see more of in the near future:
Tjeerd Veenhoven, a Dutch designer, made an innovative alternative to conventional animal leather, as well as rubber and plastic faux leather. This type of leather is made from palm tree leaves, a natural and renewable resource. It does not contain any harmful or toxic chemicals and is 100% cruelty-free. It is also fully biodegradable, breathable, durable, and possesses a unique texture. Its properties, combined with increasing environmental awareness, position it as a 'material of the future.'
Developed by Mexican innovators Adrián López Velarde and Marte Cázarez, this type of leather is called Desserto, and is derived from nopal cactus leaves. This sustainable fashion innovation was inspired by the plastic pollution crisis, and the final material resulted in an organic and partially biodegradable material. It is also durable, water resistant, and can withstand wear and tear, making it a suitable material for fashion, furniture, and car interiors. According to the founders, the adoption of cactus leather in various industries could potentially reduce plastic waste by 32-42% and save up to 20% of water consumption. Cactus leather shows great promise, and it is expected that both designers and consumers will enthusiastically adopt it, unlocking its capacity to bring positive changes in the industry.
This type of leather is developed by researchers at Tufts University School of Engineering. Made from silk of silkworm cocoons, the researchers broke down silk fibers into protein components and repurposed them to create a leather-like material that retains the texture, flexibility, and stiffness of genuine leather. This silk-based leather can be printed with various patterns and textures, withstand folding, piercing, and stretching, and is suitable for creating leather goods. The production process is also sustainable as it is water-based, uses mild chemicals, and is conducted at room temperature, resulting in minimal waste. This innovative material offers the advantages of leather alternatives while being biodegradable and recyclable, and paves the way for eco-friendly fashion and accessory production.
As the world increasingly embraces sustainable living, it is evident that more alternatives to genuine leather will rise and become prominent in the years ahead. Qalara hails this shift and supports all efforts taken towards popularizing eco and faux leather. Check out Qalara's cruelty-free leather products here.
~ Written by Yashvi Singh