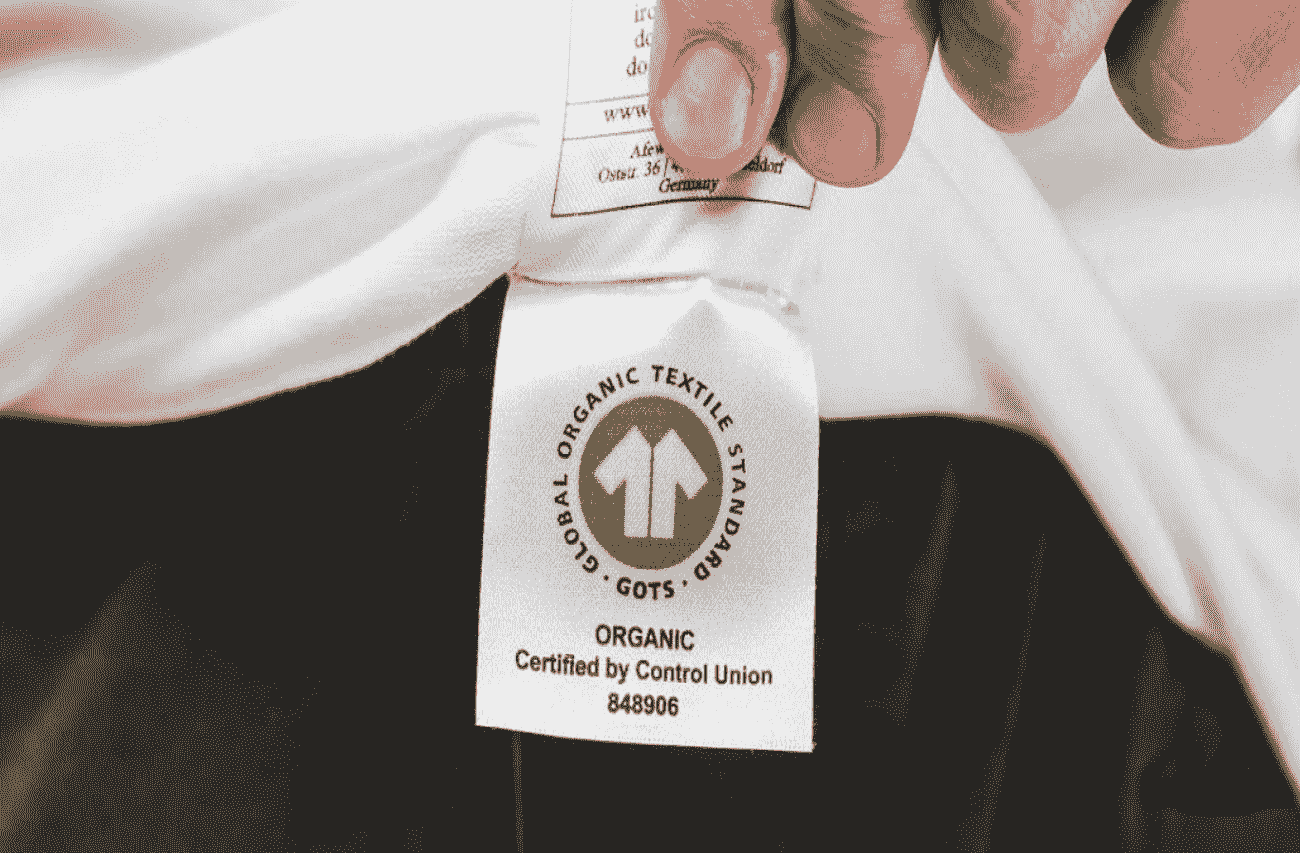 D
o certain certifications leave you stumped? Certifications come with a degree of credibility and a badge of honor. Not only do they help you market your products better, but also make you more relatable to an audience that supports causes and values endorsed by these standards. Needless to say, that they immediately hike the price tag of your products.
1. Global organic textile standard (GOTS)
Products with a GOTS tag bring with them credibility and an assurance that your purchase is organic. The standard covers the processing, manufacturing, packaging, labelling, trading and distribution of all textiles made from at least 70% certified organic natural fibers. The final products may include, but are not limited to, yarns, fabrics, clothes and home textiles. However, this standard does not cover leather products. GOTS is recognized as the world's leading processing standard for textiles made from organic fibers. It defines high-level environmental criteria along the entire organic textile supply chain and requires compliance with social criteria as well.
Behind those beautiful textiles, there usually is a toxic story. Textile production often results in inadequately treated discharge of toxic chemicals into the air and water. Even the workplace conditions are often hazardous for the employees who make these products for us. GOTS prohibits the use of 'unkind' chemicals that are usually cancer causing, while also being disastrous for the environment. From raw materials to production to labelling, every step is closely evaluated against a strict standard that promises the customer an organic product that is beautiful inside out. It's a win-win for all: Farm workers and the environment are protected when organic materials are used. Factory workers and the planet are safe when your product is manufactured without the use of harmful chemicals. Consumers are protected when there is no harmful residue in the final offering.   
Fairtrade Labelling Organizations International, or FLO, is the largest fair trade certification organization for cotton, serving as an umbrella group for several smaller organizations. The Fair trade cotton certification ensures that cotton producers receive a fair price for their crop, a guaranteed minimum price that varies according to the production context of each country. The international Fairtrade system exists to end poverty through trade. The Fairtrade Foundation is an independent certification body and NGO which licenses the use of the FAIRTRADE Mark on more than 5,000 products which meet its rigorous social, economic, and environmental standards. This independent label signifies to consumers that farmers and workers across 75 developing countries are getting a better deal from trade. 
Cotton is an integral part of our everyday lives. You probably are wearing it right now or lounging on a sofa with a cotton cushion. Around 100 million rural households are engaged in cotton production in more than 75 countries around the globe. The cotton industry is worth over USD 50 billion a year but it's India that grows the most Fairtrade certified cotton. Fairtrade works with farmers to stop or reduce the usage of agrochemicals and supports them to adapt to changing climate patterns. Fairtrade cotton fields in India are rain-fed, reducing the region's water footprint, when compared with production in other countries. Requirements in the Fairtrade Standards also protect farmers' health and safety, and ban genetically modified cotton seeds. A large percentage of Fairtrade cotton is also organic-certified, and Fairtrade encourages and empowers cotton farmers to protect the natural environment as an integral part of their farm management. This means that when you buy a Fairtrade Cotton product, you are not only helping the farmers and the environment, but you are also reaping its benefits since your textile is sans harmful chemicals and is natural in every way. Did you know Fairtrade cotton has five times lower social and environmental footprint?
3. Global recycle standard (GRS)
The Global Recycle Standard meets the needs of companies looking to verify the recycled content of their products (both finished and intermediate) and to verify responsible social, environmental and chemical practices in their production. A GRS certification indicates that the product is indeed made from recycled materials under healthy working conditions, and that harmful environmental and chemical impacts are minimized. This includes companies in ginning, spinning, weaving and knitting, dyeing and printing, and stitching in more than 50 countries.
GRS certification is administered by the Textile Exchange, a global non-profit dedicated to driving changes in sourcing and manufacturing and ultimately reducing the textile industry's impact on the world's water, soil, air, and people. Textile consumption around the world is calculated to be over 100 million tons! However, the rate of recycling is rather low. Barely 13% of the total material input is in some way recycled after usage. This makes it imperative for us, as responsible buyers and sellers of textiles to promote products that are indeed recycled, encouraging conscious consumerism.
4. Responsible wool standard (RWS)
The Responsible Wool Standard (RWS) from Textile Exchange is a voluntary global standard that addresses the welfare of sheep and the land they graze on. The standard also follows the chain of custody from farm to final product, so consumers can have confidence in the RWS logo. The standard certifies that the brand meets rigorous animal welfare and land management requirements.
With differing standards and opinions on animal welfare, social welfare and environmental protection across the globe, we need a wool standard that sets a benchmark and encourages transparency from brands to achieve trust from consumers. For wool growers, it drives meaningful, long-term change towards responsible farming and provides an assurance to customers that a product has been ethically produced. 
Of the five hundred plus different varieties of silk spinning worms, only four are commercially exploited for the production of natural silk, namely mulberry, tasar, eri, and muga. India happens to be the only country that currently produces all four varieties of natural silk. With cheaper silk imitations available wholesale in the Indian market and artificial silk being sold in the name of silk, the Ministry of Textiles under the Indian government floated the Silk Mark certification in 2004 to validate the authenticity of silk, protecting the interests of the traders, suppliers and in turn consumers. 
India has always been known for its beautiful, lustrous silk. Silk mark helps you identify pure silk, facilitating for a hassle-free shopping experience. Just look for the Silk Mark tag attached to the product.
1. Standard 100 by OEKO TEX
If a textile article carries the STANDARD 100 label, you can be certain that every component, including the thread, buttons, and other accessories, has been tested for harmful substances and that the article is harmless for human health.
The OEKO-TEX® Standard 100 was developed by European textile institutes as a means to reduce the environmental footprint of the textile industry. This certification means that independent labs have analyzed the product against test criteria for a variety of harmful substances including formaldehyde, heavy metals, pesticides, phthalates, chlorinated phenols, colorants, solvents, and other chemicals; these are often used in producing fabric, including silk, organic cotton, and even natural fibers. This means that materials like silk and cotton that are usually perceived as being eco-friendly and safe, may not always be safe. A Standard 100 tag can put your buyers' minds at rest, giving them the confidence that they seek with regards to their purchase. 
Bluesign screening tackles the problem at its root. Instead of focusing on testing your finished product, it looks at all input streams – from raw materials, to chemical components, to water and energy resources. Every component is assessed, eliminating potentially harmful substances before you even begin production.
A Bluesign certification guarantees you a product that is free of harmful substances and is safe for businesses, consumers, and the environment. You can rest assured that its production has resulted in lower air and water emissions. This means that minimal energy and material input have gone into the making of the product. Overall, Bluesign guarantees sustainable production processes as well as high levels of safety, both for human beings and the environment.
Labor rights & working conditions
An SA8000 is an international certification standard that encourages organizations to develop, maintain and apply socially acceptable practices in the workplace. The standard measures the performance of companies in eight areas important to social accountability in the workplace: child labor, forced labor, health and safety, free association and collective bargaining, discrimination, disciplinary practices, working hours and compensation. Simply put, the SA8000 standard protects workers from discrimination based on race, origin, caste, gender, religion, political affiliation and many other attributes. The supplier should have a written anti-discrimination policy that is followed in the recruitment, employment and termination of employees.
This certification gives you a clear conscience that your products haven't exploited their makers, but only uplifted them through secure policies and healthy working conditions. With concerns about workplace safety compliance, especially in the developing world, it is heartening to purchase from brands that give their employees their due.
Sedex is one of the world's leading ethical trade membership organizations, working with businesses to improve working conditions in global supply chains. It aims to ease the auditing burden on suppliers through the sharing of audit reports and to drive improvements in supply chain standards. It does this by using its own social auditing methodology named SMETA (SEDEX Members Ethical Trade Audit), that enables businesses to assess their sites and suppliers in a transparent manner, to better understand working conditions in their supply chain. During an audit, the business is assessed based on the organization's standards of labor, health and safety, environment and business ethics.
Suppliers are known to face multiple social audits from customers, each with marginally different codes, and varying guidelines. This not only causes audit fatigue, but can also disrupt work and confuse suppliers. What's worse, widespread audit fraud isn't unheard of, given that suppliers don't want to lose customers. Simply put, SEDEX aims to improve the effectiveness of buying companies' ethical trade strategies by offering a facility for supplier companies to share their audits with multiple customers.
Business Social Compliance Initiative (BSCI) is led by the Foreign Trade Association (FTA), the leading business association of European and international commerce, that brings together over 1,500 retailers, importers, brands and national associations to improve the political and legal framework for trade in a sustainable way. BSCI supports more than 1,500 FTA member companies to integrate social compliance in their global supply chains. This industry-driven movement aims to monitor and assess workplace standards across the global supply chain, ensuring that workers are being treated ethically and their rights respected – including freedom of association, fair wages, health and safety and prohibition of child labor.
When you buy from a BSCI certified supplier, you can rest assured that the seller is serious about social compliance and improving working conditions in his production network. 
Forest Stewardship Council or FSC certification ensures that products come from responsibly managed forests that provide environmental, social and economic benefits. FSC certified forests ensure that harvested trees are replanted or allowed to regenerate naturally. The forests are managed with due respect for the environment, the wildlife and the people who live and work in them. FSC is the only forest certification scheme endorsed by WWF and the Woodland Trust.
A major cause of deforestation is the legal and illegal cutting of trees to meet the growing need for tropical wood products. At current rates of deforestation, the remaining biodiversity-rich natural forests in South American, Asian, and African countries could disappear within a decade. Hence, a need for responsibly sourced wood becomes imperative. If you buy an FSC-certified product, you can be sure that the wood used in your purchase is traceable to a sustainably managed forest.