Curated by us
Handpicked on-trend collections from hundreds of ethical suppliers, for contemporary living.
Shop by trend
Soft Industrial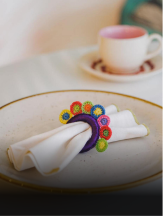 Dreamland
Sober Boho
Soulful cottage
Minimalist Vibes
Modern Medieval
Did you know, India has the world's largest organic producer base?
-International Federation for Organic Agriculture Movements
Shop by category
Choose from a wide range of handcrafted, consciously produced and mindfully designed products.
Kitchen & dining
Home decor
Furniture
Handcrafted by artisans
Carving & Inlay
Shop by crafts
Did you know South Asia's heritage of handloom & handicrafts is almost 4000 yrs old! India itself has over 516 documented craft clusters, supported by 7 million talented artisans.
Knots & Weaves
Pottery
Hand Painted
54% consumers think that they can make a positive contribution to the world with their purchases!
-Euromonitor 2020
Shop by values
This is important to us and we do our best to handpick suppliers based on these values.
Organic
Ecofriendly
Fair & social
Shop by order type
We offer different ordering options for everyone - from new businesses to larger companies.