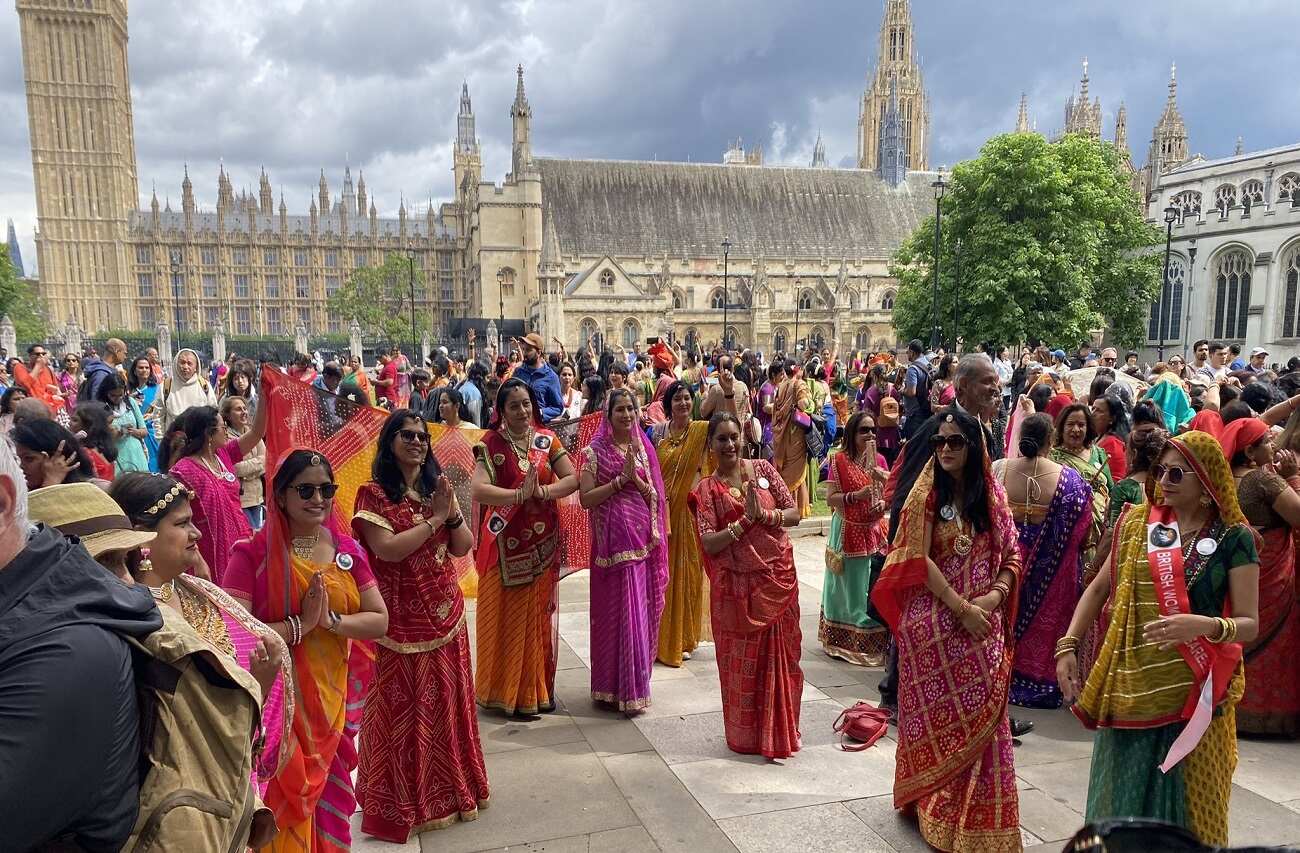 A handloom tour: walking in six yards
I
ndia has a rich history of handweaving, a craft that changes face and techniques every few 100 km. The art of handweaving dates back to 3000 BCE in the Indus Valley civilization. Centuries later, India remains the only country in the world to still have a handloom textile industry providing employment to over 4 million weavers. It accounts for nearly 95% of the world's handwoven fabrics!
The country has a rich history of handloom, a craft that offers varied results every few kilometers across the expanse of the Indian land. From luxurious silk to crisp cotton, the weavers of India have mastered the art of creating glorious textiles, resplendent in design and texture. Many famous names have endorsed Indian handloom, including Indian designer Ritu Kumar and New York-based designer Donna Karan.
A craft form so deeply rooted in history and time, in the modern world, hand-weaving was revived on a national scale by Mahatma Gandhi. During the Indian independence struggle of 1900s, as a means of political emancipation, he urged the mass to use 'charkha' or handlooms. This contributed to the larger cause of boycotting imported yarns and textiles. To honor the noble looms, in 2015, the Government of India designated 7th of August as the National Handloom Day.
As we celebrate the art of handweaving and handspinning, we honor the Indian weaving community and express our wholehearted gratitude for their role in propagating the heritage and cultural craft forms of India. And it seems like we're not alone!
Marching in six yards of elegance
From miles and miles away, even the ladies of London are joining suit! To commemorate the National Handloom Day, around 500 Indian-origin women participated in a saree walkathon event which was held in London! A tribute to handwoven jewels, the participants draped themselves in different styles of saree, representing different states of India. In their six yards of sheer elegance, they strutted past some iconic landmarks such as Trafalgar Square and the Parliament Square.
– Dr. Dipti Jain, British Women in Sarees group (organizers of the event)
With a goodwill aim of helping the weaver communities of India in financial and humanitarian ways, the group intends to reach out and connect with more and more artisans who need all the help and support. Any funds or proceeds from the event will make their way to talented artisans in India as a token of appreciation for their valuable artistry.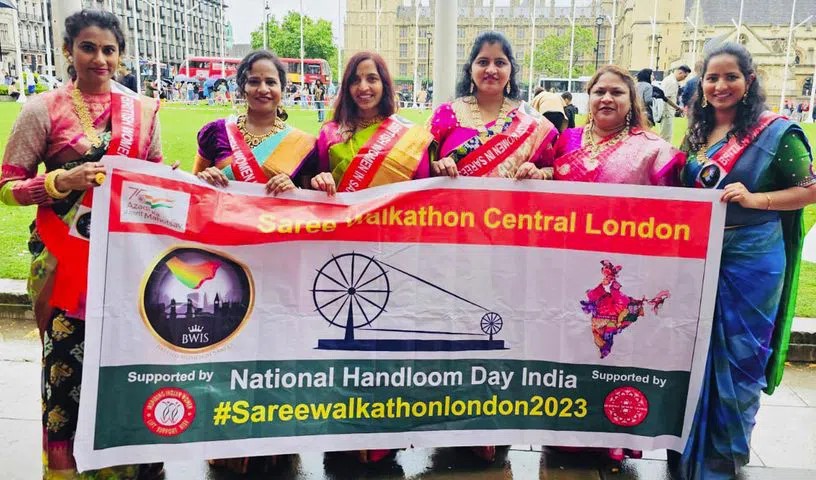 At the walkathon, some 30 women from the southern state of Kerala flaunted the traditional mundu sarees bought directly from the weavers to empower them. Paying homage to the numerous weaves of north and south India such as Phulia, Kantha, Bandhni, Dabu, Ilkal, Molkalmuru, Mysuru Silk, and more, the event hopes to do justice to the regional, cultural, and design diversity of India.
With this event, the traditional handwoven saree is brought to a global platform where it shall enchant all beholders with styles and colors galore! Familiarize yourself with some of these weaving techniques as Qalara takes you on a specially curated handloom tour, stopping at the most prominent weaving destinations!
1. Kanjeevaram silk weaving in Tamil Nadu
While this weaving technique has evolved over the years, today Kanjeevaram textile is made from pure mulberry silk with zari (silver or gold thread). The fabric is known to be highly strong and durable because it features three silk threads twisted together with a silver wire. To retain the stiffness and thickness of the fabric, the threads are soaked in rice water and sun-dried before they are used for weaving.
Local artisans create the most detailed designs ranging from florals to geometric patterns to religious figurines, using their legendary weaving skills. The fabrics are a masterpiece in their own right and a favorite with Indian celebrities, the who's-who of Bollywood!  It is no wonder then that Indian designer Tarun Tahiliani chose to dress Oprah Winfrey in a modified Kanjeevaram saree on her visit to India.
2. Loin loom weaving in Nagaland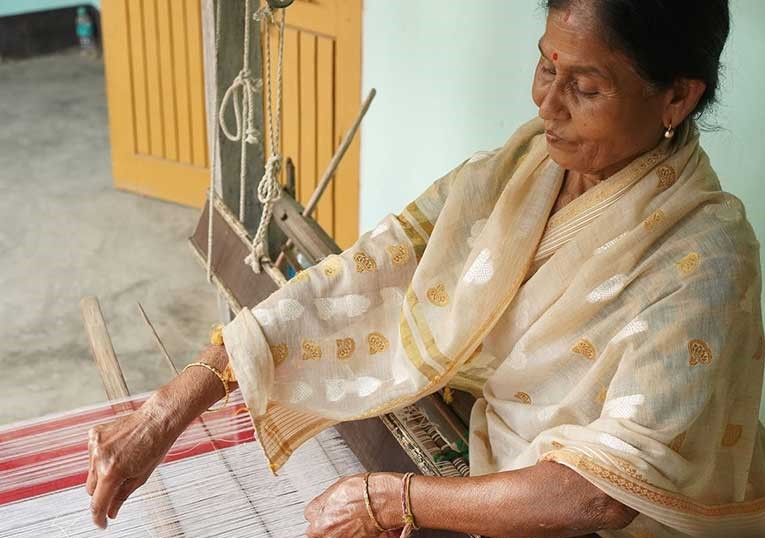 The signature of Dimapur in Nagaland, Loin weaving is the pride and tradition of 16 distinct hill tribes. The designs differ from tribe to tribe within a cultural context that can be related to the identity of a tribe, the status of the wearer and even the achievements. The oldest weaving technique of the North East, the loin loom is about as wide as a desktop keyboard and can be attached to the body of the weaver with a back strap. This portable loom renders offerings that are rich in motifs and soft to the touch.
Believe it or not, weaving one line of motifs can take up to three days! These gorgeous products find a place in the collections of reputed international brands like Crate & Barrel, Roost and Anthropologie.
3. Indian ikat from Gujarat, Odisha & Telangana
Telangana is an ancient Ikat weaving center in India, along with Gujarat and neighboring Odisha. The ikat produced here is named after a small village called Pochampally, the pride of Telangana and the epicentre of ikat weaving.  The village has over 5000 looms producing this textile and has found a place in UNESCO's list of world heritage sites. One of the most telling signs of Pochampally ikat is the intricate geometric design spread over the fabric. The minute detailing gives it a captivating effect; in fact, if you look at the design closely, it can actually have a hypnotizing, trance-like effect.
Typically made from silk or cotton silk, the fabric is lightweight and comfortable. The weaving process follows the double ikat technique where both the warp and weft are dyed prior to weaving. The operation of the loom is nothing less than mathematical genius, a fine display of calculated insertions of warps and wefts to create intricate designs. The weaving of a Pochampally ikat saree takes one family of four people, 10 days to weave!
While talking about ikat, it would be unfair to not draw attention to the genius of Odisha's Bandhas and Gujarat's Patola. Rich in motifs like elephants, lotus, fish and the typical blurred geometric designs, Odisha's ikat is all about bright colors, invigorating motifs and fine craftsmanship.
Gujarat's Patola is better known as the 'Queen of Silks.' The geometric patterns and flaming colors are distinctive characteristics of the Patola. The double ikat woven in Patan or the single ikat from Rajkot are also celebrated for their traditional designs and iconic techniques. Indian ikat is also creating waves at a global level. A few high street brands such as JCrew and Aldo have collections inspired by the Ikat weave!
4. Jamdani weave of West Bengal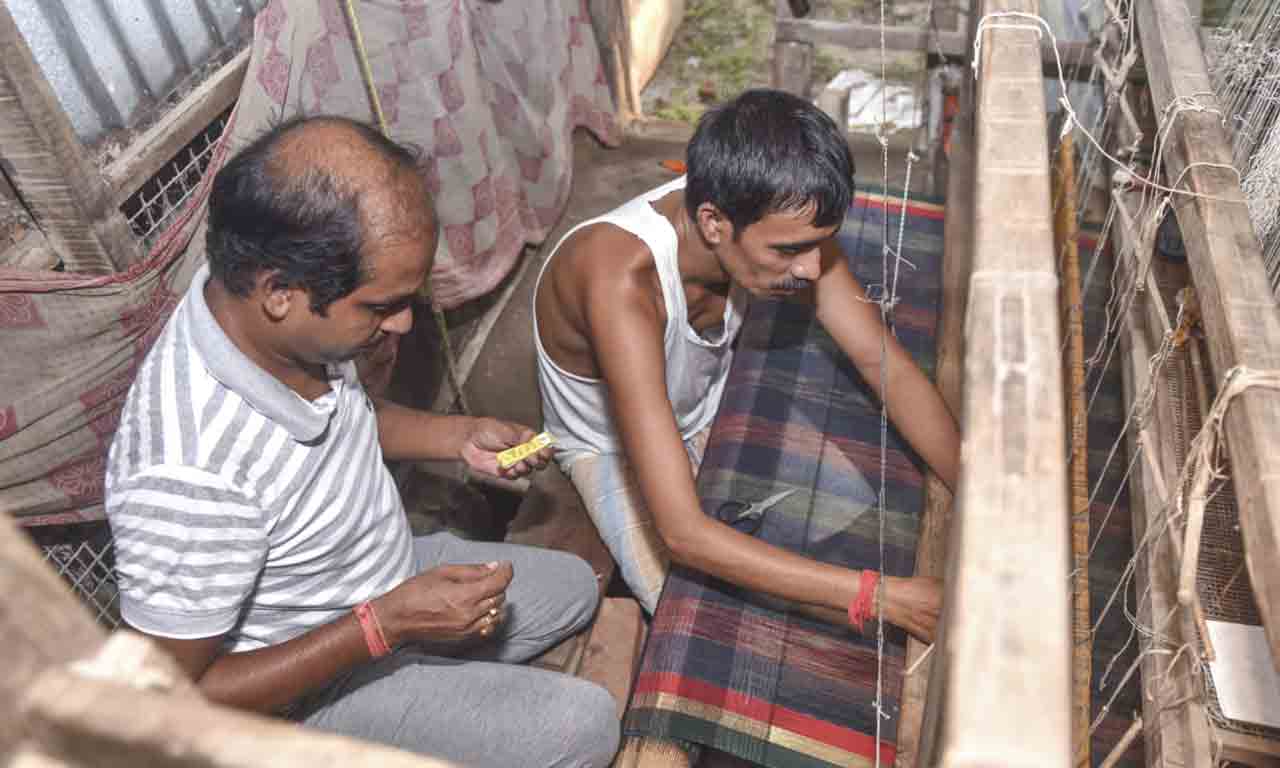 Jamdani is a time-consuming and labor-intensive form of weaving because of the richness of its motifs, which are created directly on the loom using the discontinuous weft technique. Since the defining aspect of this textile is its rich motifs, which are all intricately added by hand, Jamdani is touted as the most advanced hand weaving technique in the world!
Each motif has to be inlaid into the fabric by adding denser threads to fine warp threads. This process is so time-intensive that on a usual day, an artisan can weave only between a quarter and one inch of fabric! This vividly patterned, sheer cotton fabric is known to be highly breathable and lightweight.
5. Chanderi from Madhya Pradesh
Hailing from the small town of Chanderi in Madhya Pradesh, this fabric derives its name from its hometown. Known for its glossy transparency and sheer texture, Chanderi is a centuries old weaving technique. It is produced by hand-weaving silk and gold or silver threads (zari) in traditional cotton yarn resulting in a shimmering fabric. Chanderi is often characterized by beautiful motifs, usually inspired by nature, that are handwoven on the fabric. Fashion designers around the world have been playing with this versatile fabric since a decade. Even interior designers are taking notice of this sophisticated fabric with tremendous potential.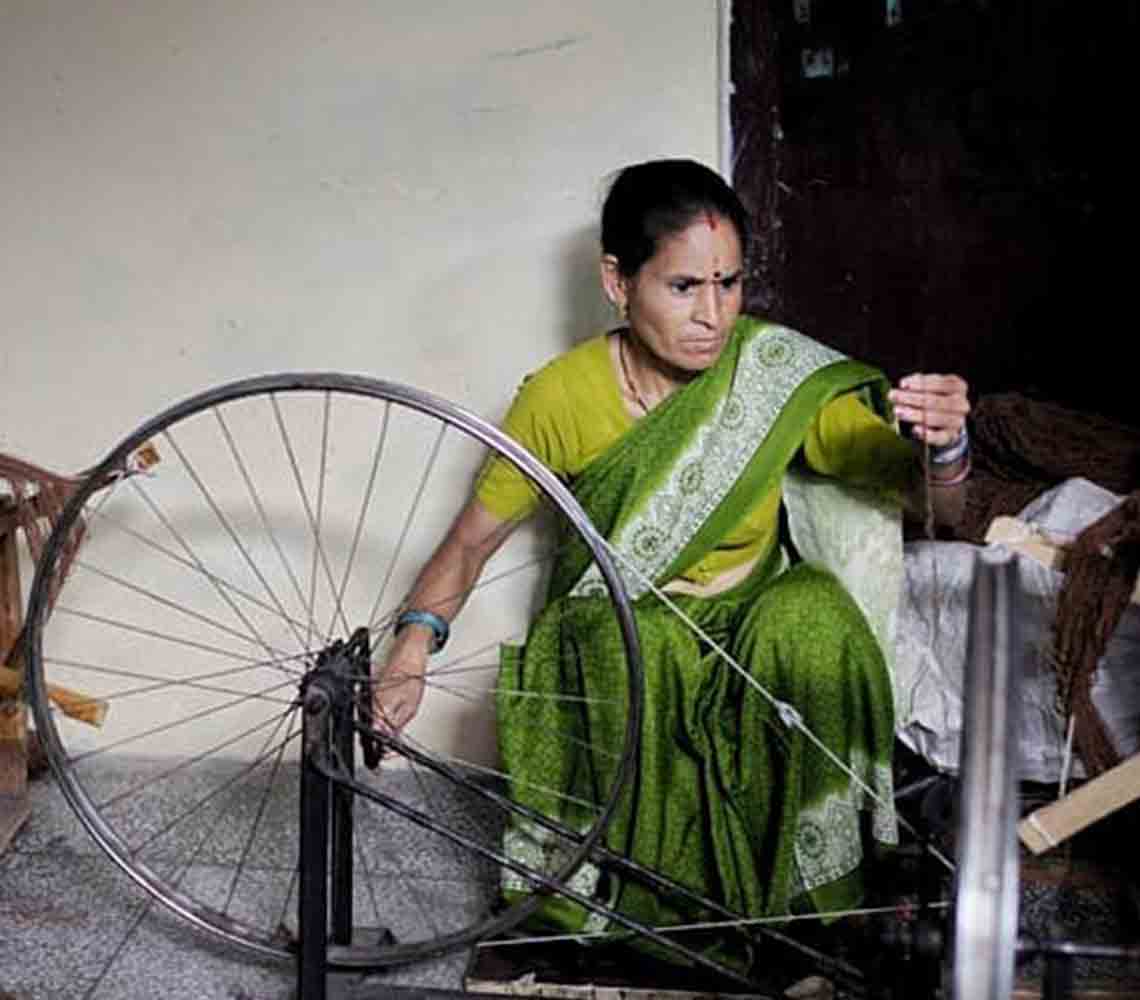 Pashmina is made from goat's wool and often features intricate embroidery. In fact, wool from three goats goes into the making of one shawl! Meaning 'soft gold' in Kashmiri, Pashmina's warmth and softness is unparalleled. It takes a week to produce a single pashmina shawl and then a few more days for hand embroidery.
Twenty long steps go into the making of the fabric, right from hand-spinning yarn to weaving. The entire process is done manually as the soft fibre often breaks during the process and cannot be fixed any other way but by hand. The warp is made by manually winding the pashmina yarn across 4 to 8 iron rods erected on the ground. This process is called Yarun in Kashmiri. Approximately 1200 threads are stretched across 10 meters to complete a warp. The person making the warp has to walk 1200 X 10m or 12 kms around the iron rods! So fine is the fabric that it can pass through a finger ring!
Pashmina shawls and stoles also happen to be a favourite with celebrities the world over! Kate Middleton, Liz Hurley, Reese Witherspoon and Angelina Jolie are just some of the celebs who have been spotted in these shawls.
India's fabrics are deeply rooted in the country's social fabric. The ancient craft is akin to a language, with deep cultural meaning and unique to every region.
(Video courtesy: Qalara sellers)
While the tone, texture and technique may vary every few kilometres, the artisans continue to be united by a common thread: a profound love for the craft and a desire to deliver nothing but the best!